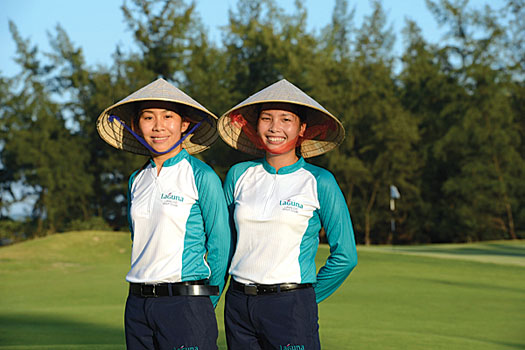 Last October, an hour before Tim Haddon began interviewing prospective caddies for the new Laguna Lang Co Golf Club on Vietnam's Central Coast, he knew his hiring strategy had paid off.
The hall he rented, in the fishing village of Lang Co, about 20 kilometres from the golf club and 80km south of Hue, was surrounded by young women, all seeking a chance to become an integral part of the five-star resort course in Thua Thien-Hue province.
"I thought we might expect 30 to 50 candidates, but more than 250 arrived within the first hour. By the end of the recruitment day we had interviewed 437," recalled Haddon, the golf club's inaugural general manager who has recently been promoted to this new position, having transferred from Laguna Phuket Golf Club in Thailand where he was the director of golf.
The high level of interest in employment opportunities at Laguna Lang Co – for caddies as well as other staff – reflects the socio-economic nature of the region where low incomes, high unemployment and limited opportunity are common.
The 60 caddies who were hired, most aged between 19 and 23, are now wearing a smart green and white Laguna Lang Co Golf Club uniform and traditional Vietnamese straw hat as they go about their task of showing golfers the nuances of Southeast Asia's newest golf course.
"The recruitment attracted a large number of local job seekers, but our main challenge was to provide them with proper training and show what being a golf caddie is all about," Haddon explained. "We offered jobs to 60 – based on where they lived, their English ability, personality and skillset."
As the number of players at the new course builds, each caddie should get a round at least every second day. On top of their pay they receive a tip from the golfer who they accompany and assist – usually 200,000 Vietnamese Dong or about US$10.
Pages
Click here to see the published article.