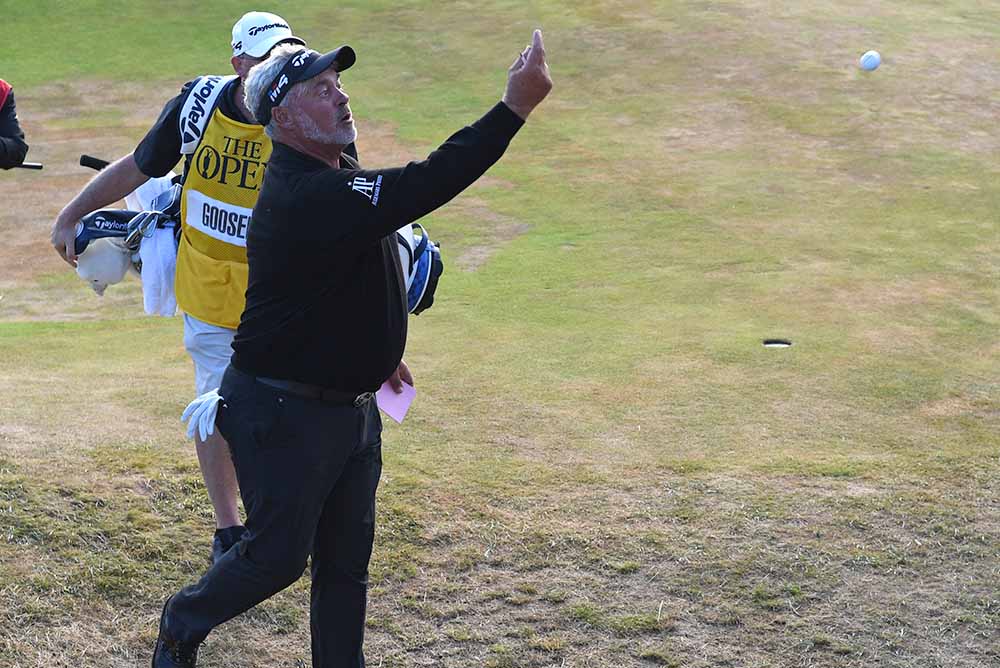 I have to admit to being a big fan of attending The Open on the practice days. Not only is it significantly cheaper, £25 as opposed to £80, but it's obviously a lot quieter, and there is a chance to mingle with the players and other persons of note. Well, mostly that is.

Carnoustie is very much on the golfing map. However, you only really go there for the golf, if you get my drift. It has nothing of the beauty, historical significance or stunning architecture of St Andrews which sits across the water. In short, the town of Carnoustie is not glam and indeed not pretty. You certainly don't go there for high-end shopping, high end hotels, high-end restaurants or high-end anything. I suspect if you decanted a bottle of wine in a Carnoustie hostelry they would probably ask you if there is anything wrang with it? No. It's not a winedecanting town.
However, Carnoustie is blessed with one of the most stunning and challenging golf courses in the world, and I'll drink, undecanted, to that.
I went to the Tuesday practice day, and there was already a great buzz and bright, expectant atmosphere. I headed for the practice area which was against the grain for me, but they seem to have dispensed with the Bollinger Tent for some insane reason. Still, I suppose at 10am it was a tad early for that sort of thing. Hmm?
The practice area was mobbed, and full of recognisable and not so recognisable faces. On a small stage at one end the affable and ready smiling Danny Willet was being interviewed and talking through his swing changes. Right next, across a small fence was Darren Clarke with the famous sports promoter Chubby Chandler.
I had a fancy to get a self ie with Mr Chandler and was thinking about shouting across 'Chubby'. However, on noting that Darren had put on a good bit of beef, I thought this inadvisable and had the obvious potential for being taken the wrong way. I don't think you want to be seen to wind up Mr Clarke, even though my motive was ostensibly pure and innocent.
Still, I did manage to catch up with Mr. Chandler as he exited the practice area, asked for a selfie to which he initially seemed ok about. However, he then obviously had second thoughts and quickly marched off, saying 'he was behind time'. I thought that was quite an interesting comment, reflected quickly on its possible (but unlikely) philosophical dimension and then figured I'd just been snubbed. You can't win them all.
I did, however, get an Open selfie with the most lovely and genuine English player, Jordan Smith who'd done so well in the U.S. Open a couple of years back. I shouted across to him as he was walking up Hogan's Alley and he immediately, and most obligingly, came across. I had caddied in the same group with him at the Dunhill last year, and he actually remembered me. Or shall I say he remembered my somewhat memorable Royal and Awesome shorts? Anyway, what a very decent and obliging bloke.
Pages
Click here to see the published article.