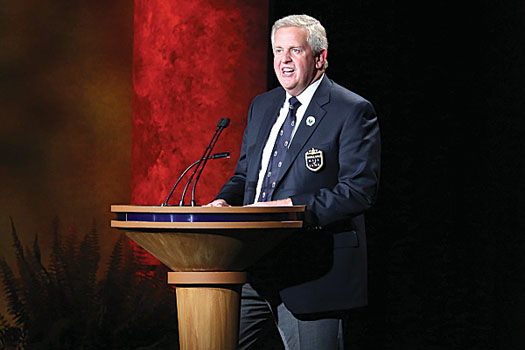 Every time the US Open comes around, some well-meaning soul will remind Colin Montgomerie of those occasions – there were four of them – when he missed out on winning that major by the proverbial whisker.
This year, the Scot might find such recollections altogether more painful than usual for, had he succeeded in seizing any one of those opportunities, he could well have avoided the latest 'Monty controversy'. Or, to play it safe, what was the latest controversy in this inimitable character's life when this magazine went to press.
On the same May day as Montgomerie was admitted to the World Golf Hall of Fame, Tony Jacklin, a former Open and US Open champion, declared that Hall of Fame honours should go only to those who had won majors. While stressing that he had "nothing personal" against Montgomerie, he said that the Scot did not belong in that company. In his eyes, the only "worthy" players were those who were major winners.
Jacklin did not deny that Montgomerie, the 2005 Hong Kong Open champion, had done something pretty special in winning eight European Tour Order of Merits. At the same time, he accepted that the player's Ryder Cup record – Montgomerie never lost a single in his eight appearances – was similarly impressive. However, especially in the case of the latter, he made it plain that any amount of wins in a Ryder Cup context could not compare with a 'major' triumph.
"In the Ryder Cup," he said during a visit to Loch Lomond a day or so after he had made his feelings public, "you only have to beat one person on a single day. In a major, you have to beat 150 odd players over four days ... There is no comparison."
Pages
Click here to see the published article.