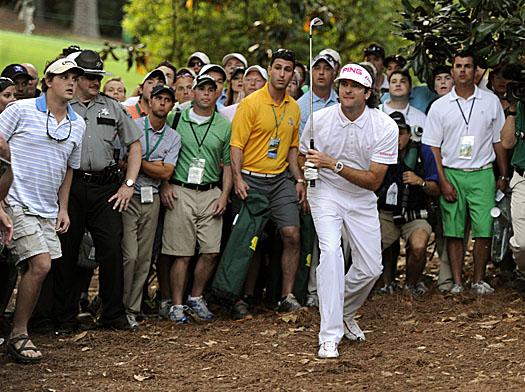 Shot of the Year
For the second year in a row, the Masters was decided in the woods lining the 10th fairway. In 2011 on Sunday it was McIlroy's disastrous drive into the trees left of the fairway that knocked him out of contention and opened the door for Charl Schwartzel. This year, it was Bubba Watson's hooked wedge shot from deep in the trees on the other side that somehow, against all right and reason, wound up 15 feet from the pin. Two putts later, he had defeated Louis Oosthuizen in a play-off and won the Green Jacket.
"I had to keep it under 15 feet under a tree, then it started rising and hooked about 40 yards. Pretty easy," said an unbelievably modest Watson of his 160-yard stroke of genius.
Amazingly, Watson's effort was the second truly historic shot of the day. The first came on the par-5 second hole when Oosthuizen holed out for an albatross from 253 yards with a four-iron. It was the first albatross ever recorded on that hole, and the fourth in Masters history. But, at the end of it all, it still wasn't enough to defeat Watson and his own particular brand of "Bubba Golf".
Winner: Bubba Watson (Masters)
Pages
Click here to see the published article.