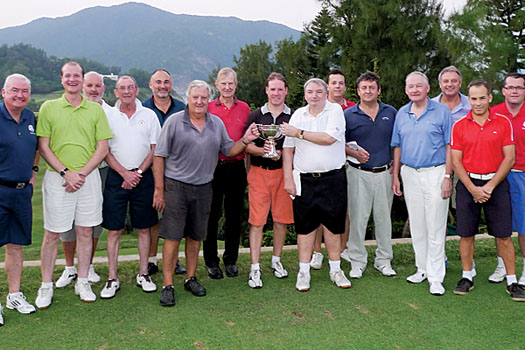 Originally a golfing version of the Calcutta Cup, the highly-charged grudge match between Scotland and England, in recent years the competition has expanded to include each of the four sporting Home Nations. In fact, neither Scotland nor England have won the trophy since the change in format. That all changed this time as the English team - represented by Stephen Gore, James Watkins, Jim Wardell and Richard Garrett - romped to a two-point victory over defending champions Wales in second place.
The format is straightforward: each country fields a four-man team, with each of the four flights containing a representative from each of those nations. Points are awarded within each flight, with four points going to the winner, three to the runner-up, and so on. With three joint-first places and a second, England were not to be caught and the battle for runner-up saw Scotland edged by Wales. Ireland took home the wooden spoon.
Shanghai Cup Results
1 England 13.5 points
Stephen Gore (3.5 points), James Watkins (3.5), Jim Wardell (3.5), Richard Garrett (3)
2 Wales 11.5
Kelly McKenney (4 points), Justin Davies (3.5), Jonathan Williams (2), Les Collett (2)
3 Scotland 10
Jim Mailer (3.5 points)), Charles McLaughlin (3.5), Paul Curren (2), Peter Brannan (1)
4 Ireland 5
Michael Lacy (2 points), Noel Smyth (1), Ian Candy (1), Sean Powell (1)
Click here to see the published article.