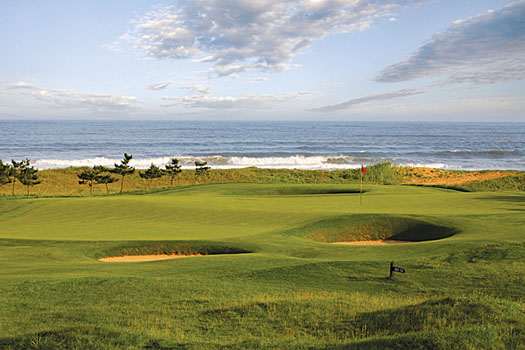 Journey to Tiger Beach
During the heady days of China's golf course construction boom in the early 2000s numerous clubs, presumably in their eagerness to drum up publicity and therefore business, contrived outlandish - and wholly incorrect - descriptions of their courses. Thus you'd find generic parkland layouts that featured expansive waste areas being described as "desert" courses. Tracks that had been almost comically over-bunkered were said to be "echoing the philosophy of the famous sandbelt courses of Australia" - or some such drivel. But the claim that really used to get my goat was the one spouted by seemingly every new course situated within relative proximity to the ocean - that they were a links, as in, "Our world-class links brings to mind the great Scottish courses, such as St Andrews, Muirfield and Carnousite." The only thing that bore any connection to Scotland, of course, was the Johnnie Walker on display behind the bar in the palatial "Turnberry" grill room. But given China's issues with counterfeit brands perhaps even that could not be said.
There is one course in China that fully lives up to its links billing, however, and that is Tiger Beach Golf Links, a wonderful and at times quirky track that lies hard by the Yellow Sea in Shangdong province. Tiger Beach is the brainchild of Beta Soong, a Taiwanese entrepreneur who fell in love with the original form of the game on a visit to Scotland over two decades ago. Determined to create his own links in China, Soong spent years finding a suitable site before plumping for this rugged beachside venue a little over an hour's drive from the mainland's beer-producing capital of Qingdao.
Tiger Beach, it has to be said, isn't 100 per cent authentic - the extremely likeable Soong installed a replica Swilcan Bridge to cross a tiny streamlet in front of the fifth tee - but that touch of naffness aside, Soong's concept of bringing Scotland to Shandong has otherwise been tremendously successful. Firm, narrow landing areas and cleverly contoured greens protected by deep pot bunkers are testament to that, while the goats that roam among the rough-clad dunes away from the fairways give a clear indication that this is golf of a very different breed.
Things are strikingly different off the links too. The small clubhouse, which has been built entirely from local stone, is a cozy place and about as unpretentious a 19th hole that you can find in this part of the world, while dining options are not limited to the largely northern Chinese and Korean dishes listed on the menu: in warmer months, the club regularly hosts barbeques on the beach, which - thanks to the vast quantities of the famous locally-brewed Tsingtao beer on offer - tend to last long into the night.
The Tiger Beach experience is so unlike anything else in Asia that it must be tried. At least once.
Pages
Click here to see the published article.