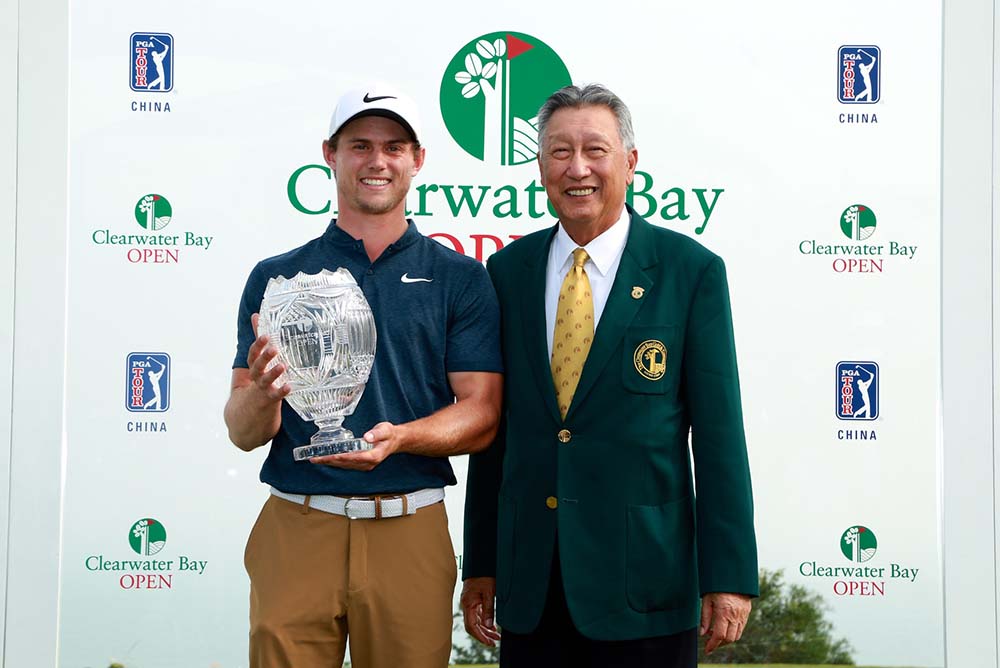 HONG KONG, 5 November 2017, (HK Golfer News Wire) - Australia's James Marchesani sank a pressure-packed 6-foot birdie putt on the final hole to win the first title of his pro career at the PGA TOUR-China's Clearwater Bay Open in Hong Kong.

Marchesani, who started the day 4-under as one of three co-leaders, shot a 3-under-par 67 at The Clearwater Bay Golf & Country Club for a 7-under total of 273 and a one-stroke victory over playing partner Callum Tarren (68) of England.
Eugene Wong, whose father is from Hong Kong, shot a best-of-the-day 66 to secure third place, at 4-under, the Canadian's best PGA TOUR-China result since 2015 when he finished fifth on the Order of Merit before playing the 2016 Web.com Tour.
Australia's Chris Wood (67) and New Zealand's Fraser Wilkin (67) tied for fourth on 3-under, one ahead of Hong Kong No. 1 Jason Hak Shun-yat, a Clearwater Bay ambassador, who shot a 68 to share sixth place with American Joseph Gunerman (69).
Marchesani spent much of the day trailing Tarren, and the round became a battle of two 27-year-olds looking for their breakthrough wins as pros, with the Australian snaring an eagle on the par-5 15th and a birdie on the par-5 18th to eventually triumph.
"I feel pretty good for a pretty good reason because the trophy's mine. It's been a long week but a very good one, and I'm very pleased to notch that first win," said Marchesani, who tied for second in August's Fiji International sanctioned by the European Tour, Asian Tour and PGA Tour of Australasia.
"I've had a couple of close looks at other tournaments, but the game was feeling good coming into this week and now I've come to the top. It was a good battle on the back, and Callum certainly pushed me to get that win."
Hak, 23, had weekend rounds of 64-68 in front of his home supporters, including his parents and uncle, and an eagle on 15 was his Sunday highlight.
"The eagle on 15 helped a lot. I just hit three good shots and made the hole look really easy," said Hak, who won his first pro title in August.
"I took a lot of good positives moving on from this week, especially the last two rounds. Hopefully I will keep that momentum going."
Hong Kong fans had further reason to celebrate when 16-year-old Taichi Kho finished 7-over (72-72-71-72) to finish as the joint low amateur with 17-year-old Chinese sensation Yuxin Lin, whose victory in the previous week's Asia-Pacific Amateur Championship earned him spots in the Masters Tournament and The Open Championship next year.