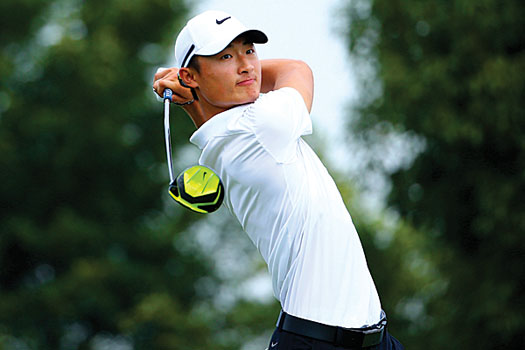 For the fans at the UBS Hong Kong Open who haven't seen you in action before, how would you describe your playing style?
Actually, my style is … when I'm feeling strong, I will attack; play very dangerously. When I'm feeling bad, I'll play very safe. This is my style.
You outscored Bubba Watson by nine shots when you were paired together in the third round of the Shenzhen International earlier this year. Bubba isn't necessarily the easiest person to play with. How did he take it?
Yeah, I played with Bubba and it was a lot of fun. It is hard to play with him because he hits it so far and every shot he plays is very consistent. So I'm very excited to shoot a low score and beat him by nine shots that day. I just had a hot putter and made a lot of putts that day.
When were you most excited on a golf course?
When I win a tournament and kiss the trophy. That's the most exciting time.

You're the first Chinese professional to base yourself in the United States, where you play the Web.com Tour. Has that been an easy move and what do you miss most about China?
Yes, I really enjoy it. Everything is getting comfortable. But when I first came here, I was actually not feeling very well because of the food and travelling too much, so I was very tired. But now everything is more settled, so I just play good and I enjoy being in the States.
You're currently on course to qualify for next year's Olympic Games. What would it mean to you - and to Chinese golf - to make it to Rio?
Yeah, I was very excited to hear that because every Chinese, if they can play Olympics, it's a great honour. So hopefully if I play well, I can play in the Olympics and also play well in Brazil.
Where do you see yourself in terms of your career in five years' time?
In five years … I think my first big target is to get the PGA Tour card. Then, when I'm on the PGA Tour, my target will be to get a win. We'll see.
If you could change one rule in golf, what would it be?
I want to get a mulligan when I hit a bad shot. This is what I want to change in the rules.
Who would you most like to be paired with at the UBS Hong Kong Open?
I know Justin Rose is a really nice guy. If I can play with him, I'd be very excited.
Click here to see the published article.