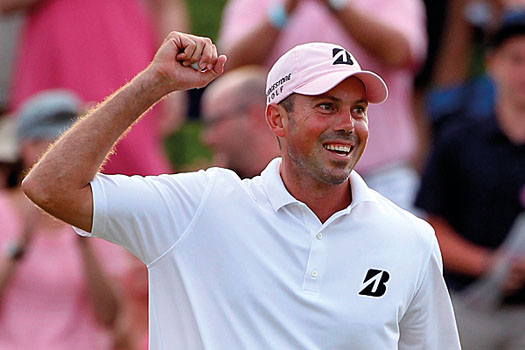 What's your favourite Tour stop and why?
The Sony Open. Going out to Hawaii is always special, always a treat and I think the golf course [Waialae Country Club] is way underrated. At first look, it looks flat and looks pretty simple, but it's tree-lined and narrow and really difficult. It's one of my favourite courses plus it's in Hawaii, so it's a good stop.
The Major you'd most like to win?
The Masters. Being a Georgia boy and having done my schooling at Georgia Tech, it's a special place to me.
Your favourite golf course?
Friar's Head, on the north fork of Long Island, NY. It's a Coore-Crenshaw course, plays through the dunes, a links style.
The most memorable shot of your career to date was ...?
The 3-wood I hit into 15 at Augusta in 2012. I nearly holed it on Sunday and it ended up three feet away. The eagle tied me for the lead. [Kuchar would finish the tournament in third place, two shots behind eventual champion Bubba Watson and Louis Oosthuizen].
The shot from a peer you'd most like to be able to hit?
A drive like Dustin Johnson. That sort of length would be pretty fun to be able to do.
What's number one on your 'Bucket List'?
I'd like to go to Alaska.
The best place to visit in my country that may not be in the travel brochures is ...?
Where I live: Sea Island, Georgia. It's a wonderful place; beautiful scenery, right on the ocean and rivers. They call is low country. It's a simple life but it's beautiful. It's nice to be able to live in a place that other people come to vacation at.
Best singer on Tour
The only one I can think of is Jason Gore. I remember he was pretty good at karaoke?
And the person who thinks he is ...?
Not sure there are many of the guys that sing. A couple of the wives do but not so many of the guys that I know.
Would you like to be able to wear shorts at a tournament, and if so, would we be horrified at the prospect?
[Laughs] I think it's good for the game of golf that we wear pants! There are a few places where it would be nice to wear shorts but I think most people would be horrified at the prospect, so it's good we wear pants.
Click here to see the published article.