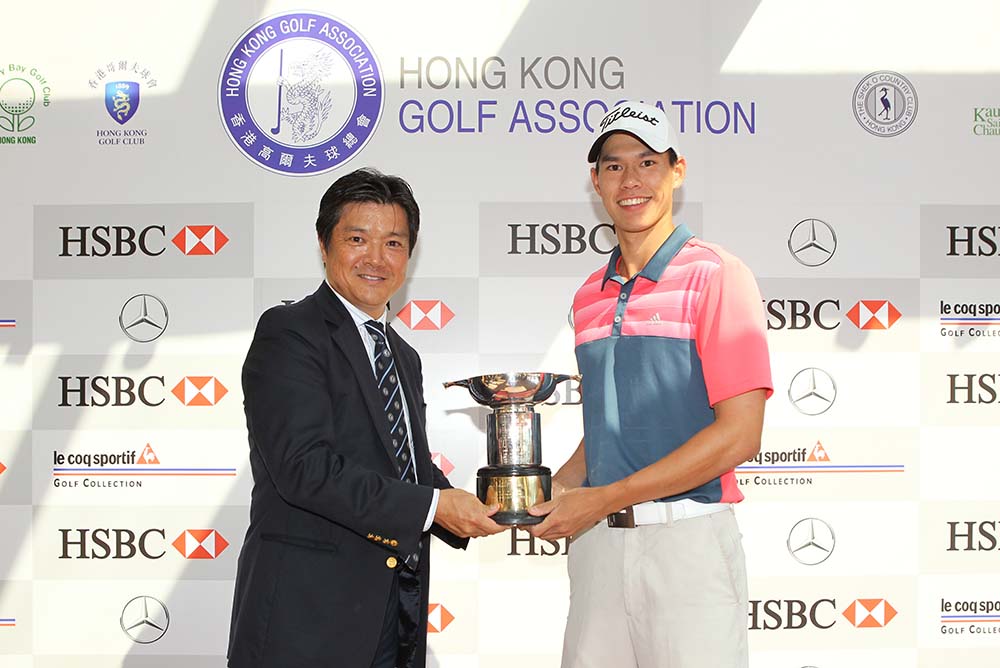 HONG KONG, 23 October 2017, (HK Golfer News Wire) - Matthew is in top form after a busy summer – representing Hong Kong at the Taipei Universiade and the 13th National Games of China.

As he had already qualified for this year's UBS Hong Kong Open, the qualifying spot for the UBS Hong Kong Open went to Singapore's Joshua Shou, he will be rewarded with a berth to tee up alongside the world's best golfers at Fanling in late November, Joshua finished two shots behind in second place with a total of 285.
Defending champion Yannick Artigolle was the overnight leader after 3 rounds (71-68-67), 8 shots ahead of Matthew at 206. But Artigolle faded to an 84 in the final round and finished in sixth position. Fellow national teammates Terrance Ng and Wu Sho Wai finished third and fourth respectively. Singapore's Marc Ong tied for third with Ng on a total of 286.
"Honestly, I was not playing too well in the front nine and shot one over. I thought I was not in the tournament at all at the turn. And then I shot 3 under in the back nine. I had some really good putts on the 15th and 16th. To be honest, I just tried to beat Marc (Ong) and have fun out there. It was a surprise to me when I found I won. I will be playing three to four tournaments before the UBS Hong Kong Open to keep my game in shape. I am looking forward to it," said Matthew.
A field of 58 amateurs from 11 different countries participated in the tournament at The Discovery Bay Golf Club. Hong Kong's Stuart McKinnon took the Mid Amateur title for ages 25 and above with a total of 297, three better than Discovery Bay member Jay Won. Douglas Williams, four-time Seniors Amateur Open champion, finished in third with a total of 309.
Leading final scores:
Open Amateur Division:
283 - Matthew Cheung (HK) 77-70-67-69, 285 - Joshua Shou (Singapore) 70-68-72-75, 286 – Chong Ching Marc Ong (Singapore) 71-76-67-72, 286 - Terrance Ng (HK) 69-78-66-73, 288 - Wu Sho Wai (HK) 68-75-69-76, 290 - Yannick Nathan Artigolle (HK), 71-68-77-84;
Mid Amateur Division:
297 – Stuart McKinnon (HK), 73-75-74-75, 300 – J K Jay Won (HK) 79-72-73-76, 309 - -Douglas Williams (HK) 80-75-74-80, 311 – Todd Anthony Doss (Thailand) 81-79-77-74, 313 – Jeffery Wang (HK) 76-75-77-85.