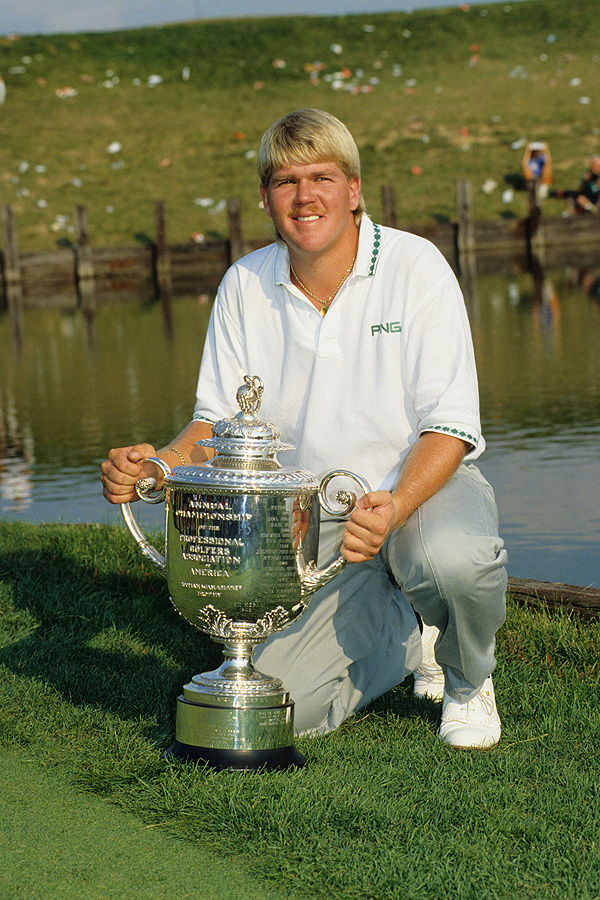 Twenty years ago, the ninth and final alternate for the 1991 US PGA Championship shocked the golfing world as he raised the Wanamaker Trophy after four days of quite mesmerizing play. This hulking figure of a man (replete with golden mullet) claimed the title by shooting rounds of 69-67-69-71 for a three-stroke victory over the seasoned Bruce Lietzke. When asked how he did it, he just smiled and in his Arkansas twang said, "Grip it and rip it."
John Daly has stayed true to that motto. He has gripped and ripped his way through his entire life, a life mixed with extraordinary highs and shocking lows. In the 20 years since his triumph, Daly has been up and down as many times as a captain of a 747, but one thing has stayed constant: you never know what he will do next.
Daly started playing golf at the tender age of just four. He quickly took a liking to the sport, and developed what can only be described as a swing only a mother could love. He swung in a way that crossed the flexibility of a gymnast and the downright craziness of a contortionist – but his timing was spot on. While it may not have been the prettiest sight, boy did that ball fly when Big John took a swing at it.
As Daly grew, so too did his golfing talents. Daly attended Helias High School in Jefferson City, Missouri, where he became the state's golf champion. However his talents extended beyond the course, as is evident by the multiple kicking records Daly holds in American football; he was a letterman in both sports.
Daly graduated high school and went on to play for the University of Arkansas golf team. He left college before completing his degree to pursue professional golf, and in 1987, John Patrick Daly officially joined the paid ranks. He claimed his first professional victory that same year at the Missouri Open.
Early on in his career, he attracted relatively large crowds when he was on the tee, however these gatherings usually diminished as he walked towards the fairway. This didn't bother Daly though; he knew that he had the short game and feel of a champion.
His chance came at the 1991 US PGA Championship. Daly was the ninth and final alternate, but was given the chance to play after Nick Price dropped out. None of the other others wanted to compete on such short notice, so Daly got into his car, drove through the night to reach the Crooked Stick course, and teed it up in the first round the very next day. Price, one of the nicest people in professional golf, was kind enough to offer his caddie, Jeff "Squeaky" Medlin, to Daly for the tournament. Daly jumped at the opportunity and with Medlin's guidance, he took on the lengthy layout with an intoxicating blend of raw power and a deft wedge game. Within the space of four days, Daly went from zero to hero. The golfing world had seen obscure major winners before, but it had never seen anyone quite like John Daly.
Daly attracted a new demographic to the game. He was the good ol' country boy who could hit the ball a country mile; and people who were previously not interested in golf, became interested in him. Attendance began to swell at events in which Daly competed, and he soon became a household name. Daly would win twice more – at the BC Open in 1992 and the BellSouth Classic in 1994 – before his next major surprise.
Pages
Click here to see the published article.