Thank goodness for the rain. It's absolutely bucketing it down and shows no sign of relenting. I'm not usually so pro precipitation – I'm from Scotland – but on this occasion it has its advantages.
We, the media, have assembled for a tour of Faldo's latest design creation at Laguna Lang Co, the Banyan Tree Group-developed and managed luxury retreat on the Central Vietnam coast, but given the conditions it's been decided that we skip this part of the itinerary and adjourn for an early lunch.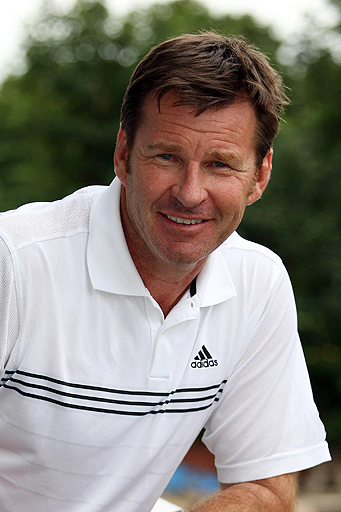 While Faldo's course is sure to be world class when it opens – aside from his post-playing career success as a TV commentator, the 54-year-old Englishman has established one of the most respected design firms in the business – and I'm disappointed not to see how its progressing – the weather means Faldo's schedule has relaxed a little. On media trips such as this, the amount of face time journalists get with the star of the show is dictated by any number of factors, but generally speaking a 15-20 minute interview is about as much as you can expect, given the typically whirlwind nature of the subject's visit.
This time is different. With no course tour to host or coaching clinic to conduct (this too has been cancelled), Faldo has time on his hands and I make my move. I introduce myself on the minivan ride to the lunch venue and then – rather cheekily, it must be said – plant myself in the seat next to his at the restaurant. If he's at all irritated by my chutzpah , he does a very good job of hiding it. Indeed, Faldo is great company. Far from being the cold fish that he is often portrayed to be, the six-time major champion becomes more relaxed and humorous as lunch progresses, each new – and exotic – course that arrives prompting a lively – and often downright hilarious – discussion and obligatory Twitter update.
Along the way, Faldo and I discuss all manner of subjects – from Tiger Woods to financial advice, with thoughts on his maligned Ryder Cup captaincy, the state of his own game and why he believes the tours should have their own rules when it comes to equipment:
World Rankings
It's a different points system now. I was number one for 98 weeks but I didn't get there until I won my fourth major, so that's quite interesting. You've got to understand the system. If you're super consistent – and Luke Donald is ridiculously consistent – you'll get there. In theory you'd like the world's number one to have a major title, but maybe for Luke this is the start of him becoming a major champion.
Recent Major Winners
There have been an amazing number of first-time major winners. Phil [Mickelson] was the last multiple winner. In fact, over the last 15 majors it's been something like 12 first-time winners. I think sports need heroes. Look at tennis. They have three amazing players, plus an unlucky Scotsman [Andy Murray]. Of the last 27 Grand Slam finals, 26 have been won by either Federer, Nadal or Djorkovic.
Pages
Click here to see the published article.