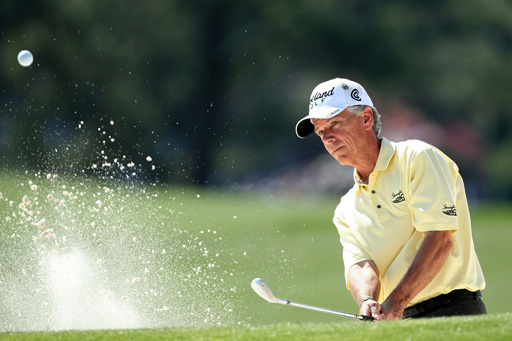 Winning The Masters and joining that exclusive club is something everyone dreams about but it's especially significant for you being an Augusta native. How does it feel now after 25 years as a Masters champion?
As the years go by you grow and learn to appreciate it more. I just realise what a tremendous win that was for me and to get to go back there every year to compete and see all the champions at the Champions Dinner. The other thing is it's hard to believe it's been 25 years. I told someone today that I'm not that old! You really just appreciate the tournament more and more. For me to even play in the tournament was a dream come true but to win it as an Augusta boy was just incredible.
You've enjoyed a good run of form on the Champions Tour of late. With the Masters only a month away do you harbour hopes of maybe doing what Greg Norman did in 2008 and Tom Watson in 2009 at the Open Championship by getting into contention at Augusta?
Oh yeah, no doubt, I can't help but think like that. The competitor in you makes you think you can do it, maybe not on a week by week basis, but in certain weeks – and Augusta is one of those weeks even though the course is so long and hard. I still believe I can get in the mix a little bit and my recent form encourages me to keep pushing and hopefully be peaking by The Masters.
So it's not a 'ceremonial' week for you in any way?
No, not at all. I still think I can compete in the tournament and I'm working hard to get in [contention] a little bit.'
Looking back to your recollections of the 1987 Masters. It was a tough week, only three-under-par got into the play-off ...
The greens were just unbelievably hard. I'll never forget John Cook and I were in the last group on Friday and we were standing on the fourth tee and the staff are hand watering the third green with little watering cans with a spout, like you would water flowers. The water is not even seeping into the green. It was like the hood of a car, it was just beading up and running off the green! The greens had that blueish–brown tint to them and were incredibly fast, so that's why the scores were so high.
Looking at who you were up against in that play-off – Greg Norman and Seve Ballesteros – they were regarded as two of the kingpins of the day. You were never a long hitter but an exceptional putter. Do you think that balanced it out for you around Augusta, having that good a short game?
I would never argue with getting a little longer, there's no doubt. I've been good around the greens and getting the ball in the hole so it's been somewhat of an equaliser, there's no question. I had a tall order going up against Seve and Greg in that play-off. For me, the way I'd played that week and the birdie on the 72nd hole gave me a nice boost and a lot of confidence going into extra holes. I had a calm nervousness about me because I had played well all week. I'd been in a play-off with Greg the previous year at the Kemper [Open , which Mize lost on the sixth extra hole] so I think that helped. Knowing it wasn't my first play-off with Greg was a positive.
Did you give any thought at the time to the fact that Greg had a pretty crushing loss in the previous major [the US PGA in 1986, when Bob Tway holed from a bunker on the last hole to beat him] and that Seve had had a similarly disappointing loss in the Masters to Jack Nicklaus the previous year?
It never entered my mind. It's funny though, no-one has ever brought that up before, but it's an interesting point that I hadn't thought about.
Ben Hogan used to say that if you ever saw him on the green on 11 with his second, you knew he'd missed the shot, but you looked quite disgusted when you left your five-iron approach out to the right during the play-off?
I was disgusted. I was trying to hit it on the green because Greg was obviously well ahead of me in the fairway; I think he may have had about an eight-iron in there. I was trying to hit a good shot but I subconsciously didn't want to hit it in the water so I just blocked it out to the right.
I've tried to think of various angles in which to ask you about your famous chip shot but I thought I'd simply ask if you could just take me though it. What you were thinking when you surveyed the situation?
One of the great things about the shot was that I only carried a 56-degree sand wedge. We've talked about how hard and fast the greens were so I knew there was no way I could carry the ball on the green and keep it on there. The only shot I thought I could play was a pitch-and-run and I knew I still needed some loft on the club because it could still run across the green into the water. So there was only one shot to play and only one club to play it with – that 56-degree sand wedge. So that was a real bonus; there was no indecision, so I could just commit to the shot. I'd had about an 18 or 20-foot par putt on the same line in regulation which I'd made, so I knew what the ball was going to do when it got on the green. So I just picked the spot to land it and wanted to hit a good aggressive shot to get it somewhere near the hole for a par putt to put the pressure back on Greg.
Pages
Click here to see the published article.