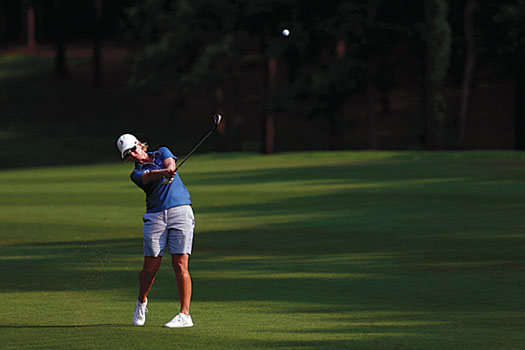 There was every reason to interview Karrie Webb in the days leading up to the recent HSBC Women's Champions, the event they call "Asia's major". At the age of 39, this winner of seven majors had arrived in Singapore having just captured her fifth Australian Open and what was her 40th LPGA title around the world.
Though it is not unusual for a man to be performing at or near to his best at the age of 39, the same does not readily apply to the women. Where, for example, 21% of the men in the 36-40 age-group are among their top 100 players of the moment, the commensurate figure for the women is a miserly 7%. (For the women, the most productive golfing years are those between 20 and 25 when they have 57 top-100 representatives as against the men's 16.)
Most of the women of Webb's age will tell you that they have had enough of the travelling lifestyle or, more likely, that they are struggling to hang on to their tour cards.
Webb, at the time of the interview, could think only of positives. Her short game had continued to improve and become like an old friend, one on which she could almost always rely to dig her out of a hole. That, in turn, had boosted her confidence.
She had won three times in 2013 and, when it came to her Australian triumph at the start of this year, she had signed off in style, unfurling a rush of birdies to overtake the up-and-coming Chella Choi.
"The way I played in the Australian Open," she volunteered, "added up to some of the best mental work I've ever done on a golf course. It's hard to put into words, but when I'm like that there's a quiet calm about everything that I do. I make decisions calmly and I back myself to pull off shots without trying too hard over them."
As for her enthusiasm, she said that it was very definitely intact. A lot of it, she thought, had to do with the way her game had been relatively consistent over the years and she had not been worn to the proverbial frazzle by too many highs and lows. She did not mention anyone by name, but Taiwan's Yani Tseng would have to be a case in point. There was a time, in 2011, when Tseng seemed to be winning every other week, while there were three follow-on wins in early 2012. Then, though, the winning stopped and the player has since been tortured by a litany of questions she cannot answer as to what went wrong.
Webb admitted that there had been days when she had thought to herself, "That's it, I've had enough" but added in a hurry that she had never really meant it: "The day I say it - and mean it - will be the day I stop."
Pages
Click here to see the published article.