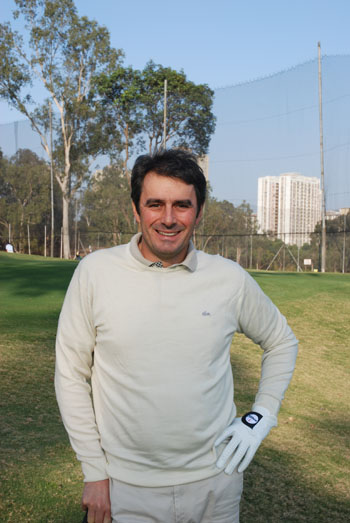 I have to confess that before the UBS Hong Kong Open I didn't know a great deal about Lin Wen-tang. That's all changed of course, and it came about by him hitting two of the finest pressure shots I've ever seen. The first, from behind the trees on the first hole of the playoff against Rory McIlroy and Francesco Molinari, was just amazing. Incroyable! To take the shot on, rather than chip out sideways and hope to save par, was an astonishingly brave decision – and to pull it off was unbelievable. But for me, it was his approach shot on the second playoff hole that was even more impressive. After McIlroy hit his own fantastic shot from the trees, the composure Lin showed in knocking it so close to the flag was amazing. It was the perfect shot.
Don't change a thing!
What Jason Hak achieved at the HKO was great. To break Sergio Garcia's record as the youngest player to have ever made the cut at a European Tour event is some feat – and excellent news for Hong Kong golf. To be honest, I didn't realize he was so young; because of his height – he's so tall for a young man! - I was under the impression that he was around 17. These guys keep getting younger and younger…
But while he is clearly a very talented player and I applaud his success, he should be wary of a few things. My advice to him is to not change one single aspect of what he's doing right now. Why? Well, for the simple reason that it clearly works. His achievement is bound to create a lot of interest and he and his family might be tempted to try and 'speed up' his development by seeking the advice of multiple swing coaches and other so-called experts. I would urge them not to do so. He's only 14 and has all the time in the world. There's really no rush to change anything at all. Too many talented young amateurs lose their momentum by unnecessarily changing their swing, their routine or the way they approach the game. A golfer should evolve naturally. Jason seems like an intelligent, down-to-earth guy and I wish him the best. I hope to be reading more about him a few years' down the line.
The season ahead
Predicting what will happen during the season ahead is never easy and often fraught with danger. After all, who would have known that Tiger would miss half of 2008 through injury? But I think after their breakthrough performances last year, Robert Karlsson and Padraig Harrington will continue to shine in 2009. Karlsson really impressed me – his play at the Ryder Cup was especially encouraging, as was Ian Poulter's. Among the Americans, I believe Anthony Kim will enjoy more success – maybe even on the European Tour, as he is one of a number of young players from the States to have signed up for the Race to Dubai. As for Tiger…well, only Tiger truly knows when he'll be ready to come back and compete again. He's incredible and I for one wouldn't bet against him winning more majors in 2009. Like everyone else I hope he returns to competitive play as soon as possible. He's great for the game and a great guy, which doesn't always come across in the media. But I've always got on very well with him. He's a very likeable man.
Open season
As for me, well, by choice, I'm not going to play as many tournaments this year as I have in the past. I have a young family here in Hong Kong and they are my biggest priority. Although I didn't play well enough in 2008 to retain my full playing rights on the European Tour, I still expect to play all the Asian Tour and European Tour co-sanctioned events plus a few others, including the Madeira Islands Open in March, site of my last victory in 2006. I'm really looking forward to July, which is when the Open de France and the [British] Open take place. These are my two favourite events (the Hong Kong Open is a close third!) for obvious reasons. I'm not exempt for the Open at Turnberry yet, so I might have to go through final qualifying like I did last year. That was a good experience and I took advantage by finishing in the top 20 at Royal Birkdale, which was one of my better finishes of the year. Needless to say, I'll be looking to go even better this time around. The passion is most definitely still there.
Click here to see the published article.