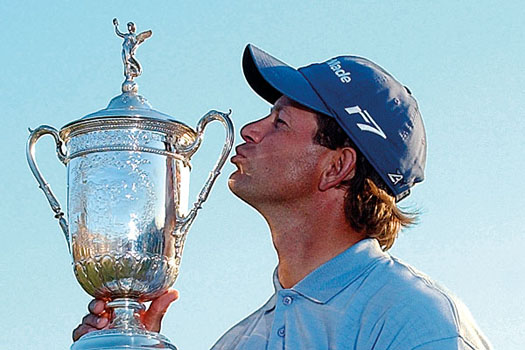 Given your injuries over the past two seasons, how is your confidence and is your passion for the game still there?
Yeah, really since the PGA [Championship] in 2011, that week there I got really ill, picked up strep throat, so that last bit of the year wasn't good. And then the beginning of the last year I tried these PRP injections, the ones Vijay [Singh] and Fred Couples had done, but after 50 or 60 injections of them in my back that didn't help. All those chemicals made me pretty depressed and sad, so I struggled for the rest of the year. But my injury in my back was really to a point where no injection could help, so I went into surgery in August last year in London. I had a full disc replacement. Two weeks after that my back felt the best it had in years. I recovered and rehabilitated very well and starting hitting balls again in December. Played in South Africa in January and felt great for the first four months of the year. And then suddenly out of nowhere I picked up a stress fracture and sat out another four months. It was very frustrating, it wears you down because you want to get out and play well again. But I'm back now. I've had to make a few swing changes. I've been working with my coach Gregor [Jamieson] in Lake Nona and we've had to make quite a few changes to take stress off my back and see if that helps. I'm swinging pretty good. It's just a question of getting my feel back.
With your time away from the game have you been able to further your interest in your wine business?
Yes. The wine industry isn't easy – it's a tough market – but I did spent a bit of my off time – I didn't touch a club for four months – on the wine front. We're trying to get the wine a bit more on the international market. We're going to start exporting to America and Hong Kong; China, Kuala Lumpur and Singapore. All those areas. So we're trying to break into the market a little bit with good wine. But I'm happy to be back playing now. The focus is definitely on golf.
How about your course design work? I know you had a project in China that has been put on hold because of the land issues there, but are there any more in the pipeline?
Yeah, that was unfortunate. At one stage I had about seven golf courses that looked like they were going to happen. We had one in Ireland, in 2009, then the crash came and all that stuff and it came to a complete halt just as were about to plant the grass. Then there was China with the land issues, South Africa – there were some land issues there too. We've got a project in Johor [Malaysia] that's going to happen pretty soon – the old Royal Johor Golf Club there. But generally everything is a bit on hold. People don't know how to proceed with golf courses. It's a very tough market.
Pages
Click here to see the published article.