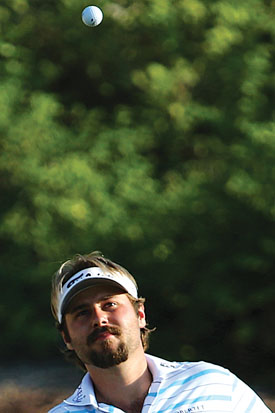 Victor Dubuisson, the Cannes-born Frenchman who has shot up the rankings in the last six months, is detonating any amount of chatter in golfing circles in his homeland. The reason, here, is that if all continues to go well, he could become the first French player in a decade to make the European Ryder Cup side.
Dubuisson is 23 and came to the fore when he won in Turkey at the end of the 2013 season. At 24-under-par, he had the better of a host of major champions including Tiger Woods, who finished four behind.
Yet even if he is being automatically bracketed alongside his illustrious compatriots, Jean Van de Velde and Thomas Levet, Dubuisson could not be less like that engagingly suave pair. Yes, he has a touch of their Gallic charm but, where each of them is the consummate professional, he does not exactly fit into that category, at least when it comes to his off-course ways.
To give an illustration, a group of Europe's top golf photographers were having lunch at January's HSBC tournament in Abu Dhabi when a relative newcomer to their ranks noted that he had arranged a photo-shoot with Dubuisson.
"Good luck to you," muttered one of his colleagues who, along with rest, gave a knowing smile.
For the most part, the photographers - and the press, for that matter - are long past the stage of taking it for granted that the player will show on such occasions.
Nor does Dubuisson reserve that kind of treatment for members of the media: he can be the same with his fellow players.
Pages
Click here to see the published article.