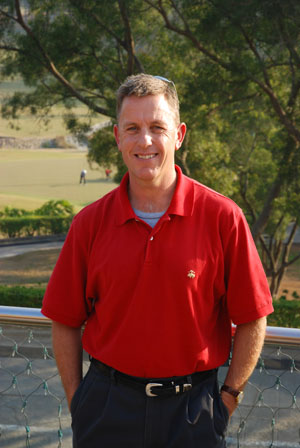 How did you get into golf club management?
Working as a horticulturalist in Australia, I was recruited to Emeralda Golf Club in Jakarta, which is a 27-hole Arnold Palmer and Jack Nicklaus design, where I was on the construction team of the golf course. Over the three years I developed a relationship with the owners, I learned to speak Indonesian and, helped by my previous experience as a chef, I was asked to 'come inside' and become Club Manager. I spent a total of ten years in Jakarta, 6 of which were at Emeralda.
How have you found your first 18 months at Discovery Bay?
I arrived at a club with 25 years of tradition; and being the new boy on the block I had visions and motivation to make changes. I tested the water on a few ideas and after six months I had a better understanding of the way to go about things. I've had nothing but support from the owners, committee, members and staff, all of whom have been very receptive and welcoming me into their beloved club.
What's the biggest crisis you've faced since arriving?
Well, it wasn't a crisis, but probably the most stressful time was when I decided to close the courses for 21 days in June last year because of the weather. We, like everywhere else in Hong Kong, had experienced enormous amounts of rainfall and there was a real danger that course conditions would suffer in the long term if we remained open during that time. Some members disagreed with my decision – and I could understand their frustration –but it was the right one to make with the support of the committee. We protected the course and the playing surfaces, as a result, have been in excellent shape throughout the autumn and winter.
What specific projects are you working on right now?
We've got a major irrigation project planned to start soon, which is going to be of great benefit to the courses and therefore the membership. It will mean closing each nine for 12 weeks at a time during the quieter periods of the year, but it will be well worth it when completed. The club is a quarter of a century old and the irrigation system needs an overhaul. When finished, it's going to be a fully automatic, state-of-the-art set up. It will be a major step forward in the maintenance practices at the club.
What's your favorite hole at the club?
That's a tough one to answer, but I have to go for the clifftop ninth on the Ruby Course, which overlooks the Discovery Bay reservoir and mountains beyond. It's a traditional par-5 because it's short enough for good amateurs to reach in two. Nowadays, most par-5s are just too long for most players, but the ninth offers a birdie chance if you get a decent drive away. There's still plenty of danger though, especially if the pin is cut in the back right portion of the green, which brings the greenside bunker into play. When I played it the first few times I was frequently going out of bounds – and off the cliff – on the right with my tee shot, but I've got that out of my system now and now I favor the trees on the left! It's a great finishing hole.  
What's the most unusual thing you've seen on the golf course?
Probably the time a gentleman member was playing the par-3 third on the Jade Course. His tee shot just caught the edge of the lake so he went over to try and retrieve it. Unfortunately, as he was doing so he slipped into the water and, because the water level was quite low, couldn't get out unaided. His wife, who was playing with him, came over to try and help him out, but he inadvertently pulled her into the water too. They ended up swimming across the lake to a point where they could get out easily enough and, soaking wet, declined to finish their round and drove their cart back to the clubhouse. That was pretty unusual.
What's your favorite course outside Hong Kong?
Emeralda in Jakarta, for sentimental reasons. I spent six years there and it's where I really started playing golf to a good standard. I had a handicap of 3.5 at one point. Another favorite is Wattle Park in Melbourne, where I grew up. It only has nine holes but it's a lot of fun and, when I was there, only cost A$3 (HK$15) to play.
If you could change one of the Rules of Golf, which one would it be and why?
I think allowing a mulligan off the first tee would be OK. It couldn't be transferable though – you'd have to use it there and then. I'm sure plenty of people would agree with that – especially those who have to face the ravine on the first hole on the Diamond Course with their opening drive of the day!
Who would be in your dream foursome?
My two sons and my wife. My sons are seven and 10 and they've just started having lessons. It's every golfing father's dream to play the game with their children – and wife, of course.
How would you compare Hong Kong golfers to those in other countries you've worked in?
Hong Kong golfers are very conscientious, especially compared to Indonesian golfers. Most golfers here have a good understanding of the game and display good etiquette on the course. In Indonesia, where I am most familiar with, the average round takes over five hours and the level of etiquette displayed leaves a lot to be desired. A classic example of this was the time I played with a General in the Indonesian army. He wanted to play a few 'funnies' [side bets], but instead of playing for the usual 10,000 rupiahs (HK$7) a funny, he wanted to play for 200,000 rupiahs! Anyway, I ended up agreeing and then started my round par, birdie, eagle, hole-in-one. I was three-under-par through nine holes and up by a lot. But then he just stopped playing and walked back to the clubhouse. He didn't pay up and he didn't even congratulate me on my ace. I celebrated the achievement by having a quiet beer on my own.
How do you unwind?
I like to keep fit and do quite a lot of running. I enter a lot of Olympic length triathlons, which comprise a 1.5km swim, 40km bike ride and a 10km run. A few of the staff here are keen runners too, and I've challenged them to a race from Discovery Bay Plaza, up the hill, to the club. I've done it in a personal best time of 18 minutes, so we'll see what happens.
Click here to see the published article.