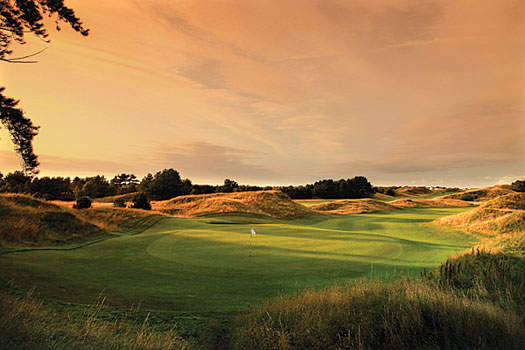 The Open Championship was first played at Prestwick, that grand old links on the west coast of Scotland. At that time, back in 1860, Prestwick consisted of 12 holes and would be extended to 18 holes some twenty years later. As the event grew in stature additional golf courses were added to the rota, including Royal Liverpool - or Hoylake as it is sometimes referred - in 1897.
Robert Chambers and George Morris (younger brother of 'Old' Tom Morris of St Andrews fame) were commissioned to lay out the original course at Hoylake, which was extended to 18 holes in 1871, two years after its inception. Famed British architect Harry Colt redesigned Hoylake early in the 20th century and it has since been tweaked periodically by the firms of Hawtree and Donald Steel, mainly as a response to advances in equipment.
Royal Liverpool is located on a parcel of land that "links" the sea with the town of Hoylake, less than 20km south of the old English port city that gave the world the Beatles. The golf route goes out and then comes back to the clubhouse, with no returning nines, and is laid out over coastal dune and sand. The golf is influenced by the ground to go with often fierce winds that blow off the Irish Sea. It plays hard and fast and every hole presents the golfer with an appealing problem to solve.
When I visited the club back in 2006, just prior to the last time it hosted the Open Championship, I was struck by the beauty of the place - including the stately clubhouse, where I presented to a group of future golf stars on conclusion of their junior tournament. I spoke in detail about golf architecture and how a basic understanding of this art could improve their game. During this presentation I recited a quote from legendary golfer Bobby Jones, whose win at Royal Liverpool in 1930 formed the second leg of the greatest achievement in golf - the Grand Slam.
"Every golfer worthy of the name should have some acquaintance with the principles of golf course design, not only for the betterment of the game, but for his own selfish enjoyment. Let him know a good hole from a bad one and the reasons for a bunker here and another there, and he will be a long way towards pulling his score down to respectable limits. When he has taught himself to study a hole from the point of view of the man who laid it out, he will be much more likely to play it correctly".
Pages
Click here to see the published article.