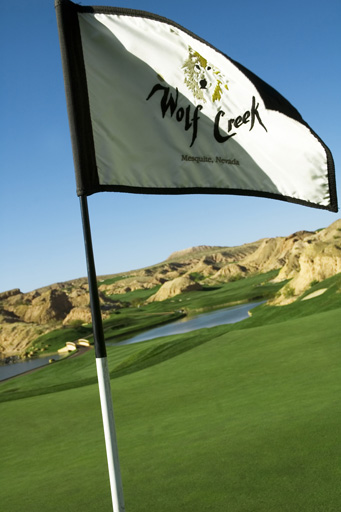 Road trips in the States don't come more quintessential than Los Angeles to Las Vegas via Death Valley. All the classic imagery is there in abundance; film locations, roller-blading Californian blondes, lone roadside motels, highways stretching to infinity, buzzards circling cloudless skies and diner breakfasts. And for serious golfers, this is a true place of pilgrimage.
From Trump National Golf Club – at US$264 million one of the most expensive golf courses ever built - to the world's lowest golf course and some of the best desert layouts on the planet, the sheer quantity and variety of places to play in California and Nevada is astonishing.
After loading our clubs into our spacious SUV at LAX, my brother Paul and I cruise north along palm-fringed Pacific Highway 1, passing through Santa Monica, Malibu and Ventura en route to the picturesque beachside town of Santa Barbara, dubbed the American Riviera thanks to its low-slung red-tiled roofs, white stucco buildings and gorgeous sunsets.
Santa Barbara makes a good base for our first game of the trip at the Rancho San Marcos Golf Course, about a 30-minute scenic drive northeast up Highway 154. Set in a gorge in the Santa Ynez Mountains among century-old oaks on land where cattle once grazed the historic San Marcos Ranch, this heavily bunkered Robert Trent Jones II course features slick putting surfaces, blind tee shots and two contrasting nines. The hole names – Eagle's Nest, Old Headquarters, Stagecoach and Davy's Stables – reflect the history of the area.
Zen Golf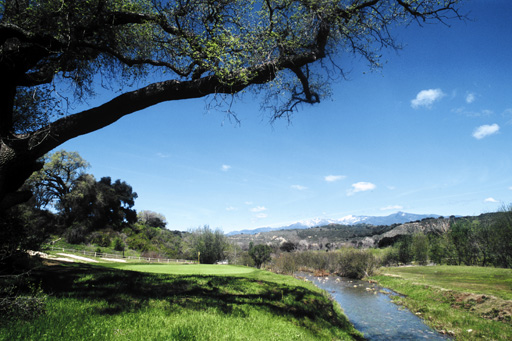 From Santa Barbara we follow Highway 33 into the golden hills of the Los Padres National Forest and the Ojai Valley where we have an appointment at the Ojai Valley Inn & Spa's historic 1923 course designed by the renowned golden-era architect George C Thomas. Standing outside the Spanish Colonial-style clubhouse wearing a baseball cap is Dr Joseph Parent, the author of best-selling book Zen Golf. With a PhD in psychology, a background in stress management, Buddhism and meditation, he's amply qualified to instruct the mental side of the game.
We ignore his topped drive with a rescue club, putting it down to first-tee nerves. "Zen Golf is the expression of insights I've developed through my teachings combined with the Buddhist state of mind," says Dr Joe, as we stroll the course's eucalyptus-lined fairways. "I sent out advance copies of the book to several pros and Vijay Singh really liked it. We worked intensively for a couple of years between 2002 and 2004, and then Vijay won a handful of tournaments and didn't need me anymore. What do you say to a guy like that, apart from keep up the good work?"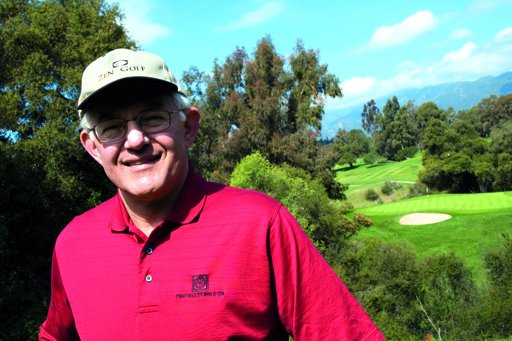 Old wooden bridges lead over gurgling brooks, ancient oaks and sprawling pepper trees stand sentinel along fairways and greens as Dr Joe continues. "I basically teach golfers how to get the most out of their game that they have developed so far. During golf, the mind tends to wander into the past and future, it's all about staying in the present," he says. "Plus, the closer you get to the hole, the more the mental game kicks in."
Desert Drive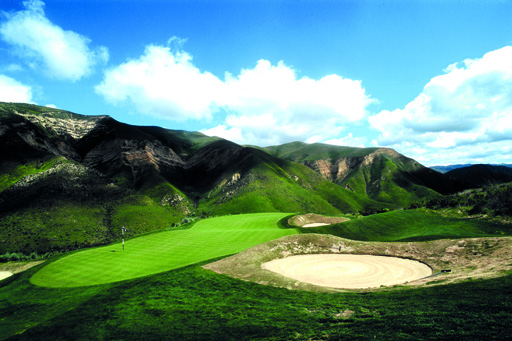 Saturday morning, and there's golf to be played at Pete Dye's Lost Canyons before the long desert drive to Furnace Creek in Death Valley National Park. Widely regarded as one of the best golf experiences in California, Lost Canyons features two distinctly different 18-hole, par-72 championship courses routed through canyons and along ridges in the pristine Santa Susana Mountains north of the Simi Valley.
The course's architect, the legendary Pete Dye, called the area "the best-suited and the most naturally-beautiful land that I have ever had the opportunity to design upon." With its majestic terrain, The Sky Course here features holes that meander across rolling hills, along dramatic ridgelines and the floor of a hidden valley. The Shadow Course, meanwhile, follows Dry Creek Canyon and affords breathtaking views of White Face Mountain.
Leaving Lost Canyons behind, we head north to Mojave along roads flanked by distinctive Joshua trees. When we reach the desolate outpost of Randsburg, low on gas, it's like entering a Wild West movie set, with tumbleweed blowing down the main street. It's late afternoon and the sun still beats down like a hammer on Highway 178. Heat waves peel off the sweeping line of asphalt that stretches forever towards distant snow-capped mountains. Death Valley shimmers far below in a haze.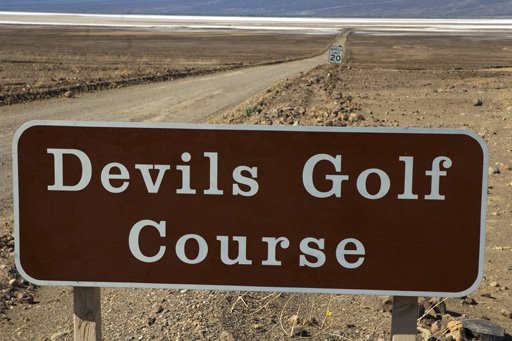 Death Valley is one of one of the hottest and lowest places on earth. As we near it, the names on our crumpled road map take on an ominous tone: Desolation Canyon, Starvation Point, Furnace Creek, Hell's Gate and Stovepipe Wells. Death Valley National Park's headquarters are situated within the welcoming oasis of Furnace Creek, where a plantation of 1,800 date palms was planted in the 1920s, creating a scene that wouldn't look out of place in the African Sahara. From Furnace Creek's verdant 18-hole golf course, a network of well-maintained roads lead to the so-called "Devil's Golf Course", in reality a vast and surreal expanse of gnarled and jagged crystalline spires – not somewhere we or any other golfer with sense would ever think of teeing it up.
The Road to Vegas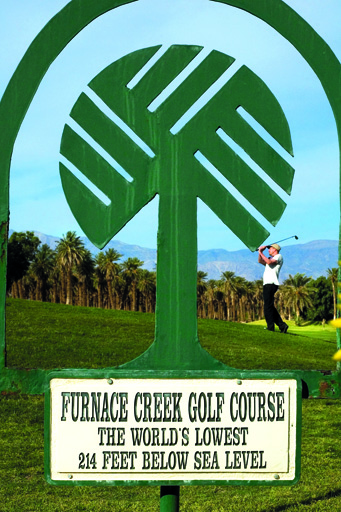 It's twilight when the infamous Las Vegas Strip looms into view, four miles of pulsating neon signs and a surreal skyline made up of a replica Eiffel Tower, an Egyptian pyramid, a Sphinx, the Statue of Liberty and an exploding volcano. Love it, loathe it, or both, Vegas is cheesy, artificial and completely over the top. It's changed direction and reinvented itself more times than David Bowie crossed with a chameleon, and each time it emerges with a better and classier product. It is no exaggeration to suggest that Vegas has truly become a luxurious resort destination.
Over the past 10 years, the number of immaculately conditioned golf courses within a two-hour drive of the city has increased to more than 60 and many of these are top-flight tracks designed by some of the biggest names in golf: Nicklaus, Palmer, Dye and Fazio all have courses here. The desert landscape has offered them an amazing canvas from which to create their works of art – swathes of emerald green fairways in a sea of red rock.
Admittedly, you'll be hard pressed to find green fees under US$100, making Vegas one of the most expensive destinations in the States. By Hong Kong and China standards however, this represents tremendous value for money. The pick of the public-access courses includes Bear's Best, Bali Hai Golf Club, Primm Valley, Rio Secco, where Butch Harmon calls home, Paiute Golf Resort and Badlands.
The following morning we find ourselves inside the office of Dream Car Rentals on the Strip, surveying the list of exotic vehicles for hire. We want to add a little "vintage" to our US golf tour and plump for a 1959 Cadillac Convertible, whose specifications make interesting reading. Length: football field; width: ocean liner; engine: V8; horsepower: 300; max speed: who cares? 0-60: you're kidding!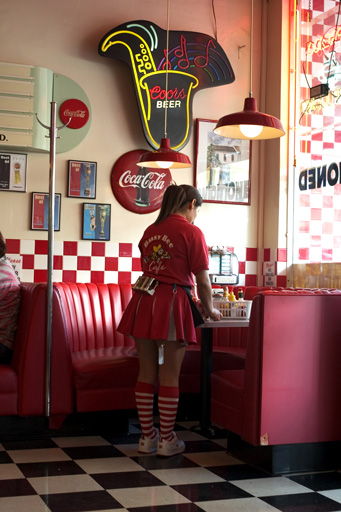 I strap myself in, twiddle the chunky knobs on the radio to tune-in a local station and rumble the 'retro orgasm on wheels' onto the main drag. Even in "anything goes" Vegas, the birthplace of bikini bull riding, the car still manages to attract a fair bit of attention from pedestrians. Ah, this is the life - two high-handicap golfers in a fire engine-red convertible with fins, driving down one of the most recognisable stretch of roads in search of the great American dream.
While the golf clubs stand proudly against the red leather back seats, the inside of the trunk looks like a mobile golf store, containing all the essentials for another day of desert golf; four-dozen Pro V1s, an assortment of hard low-grade two-piece balls, four bags of tees, a whole galaxy of multi-coloured markers, a six-pack of Powerade, four protein bars, a case of Budweiser, a quart of Wild Turkey bourbon, two bionic golf gloves and a well-thumbed copy of Zen Golf personally signed by the good doctor.
Up the Creek
We are about 60kms northeast of Vegas along Highway 15, when my roaring hangover (courtesy of a bucket-load of complimentary bourbon the previous night) begins to kick in. I almost start hallucinating at the wheel and say to my brother something along the lines of: "I feel a bit lightheaded; maybe you should drive ..." He just laughs and rips open a beer can that foams all over the back seat while I contemplate my misery. Such is the effect of Sin City.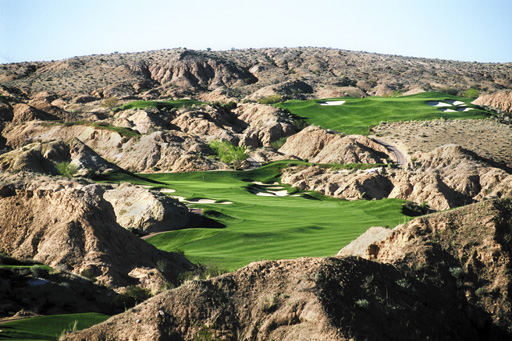 Suddenly, rivulets of sweat begin running down my brow and I can't seem to get Dr Joe Parent's words of golf wisdom out of my brain. "The closer you get to the hole, the more the mental side kicks in." "On a birdie putt just think of the length of grass between the ball and the hole." "Just tap it in." "Don't get in your own way." "Stay in the present." "Just tap it in ..."
I hit the brakes, aim the vehicle towards the shoulder of the highway and quickly gulp down a bottle of chilled Powerade. It doesn't seem to help much. But the one thing that shakes me out of my desert delirium and keeps me steering the 'red beast' down the furnace-hot asphalt towards the border town of Mesquite, some 50km away, is the promise of 18 glorious holes at one of the most amazing golf courses on the planet – Wolf Creek.
There are some overused words when it comes to describing a golf course – "spectacular", "dramatic" and "on a grand scale" come immediately to mind – which makes it difficult to illustrate Wolf Creek Golf Club without sounding like a broken record. But rest assured: it is all of these things and more. Set high above the desert floor among red-rock monoliths, teeming waterfalls and glistening creeks, it looks as though strips of green velvet have been laid out on a lunar-landscape. There are precious few courses that can generate a genuine sense of awe for several holes at a stretch. Exceedingly rare is the layout that can sustain the feeling for an entire round; Wolf Creek Golf Club is such a place.
Developer Doug Clemetson was determined to leave the distinctive natural landscape in place, accepting that a number of non-traditional golf holes would be the result. On the second tee box, for example, 90 granite steps lead up to the driving area, which is located some 11 storeys high. The 215-yard par-3 third hole plays uphill to one of the highest points on the course with 70-mile views and the fifth is a short par-5 that makes a rather abrupt turn left through the rocks before heading up to the green.
Another classic is the par-3 11th, an island in a sea of red rock and typical of Wolf Creek's dazzling visual appeal. As we prepare to hit our drives from the elevated tee at the 17th hole, the sun casts long shadows across canyon walls, gullies and surreal dried-earth formations, which glow red, pink, and gold in the late afternoon light. Leaning on our drivers we take a moment to take in this classic desert scene – one that provides a fitting finale to our American golfing odyssey.
Read more about the fantastic golf adventures of the Marshall brothers, travel writer Andy and photographer Paul, in their e-book Golf Journeys & Culture, which is available for download at golfjourneys.net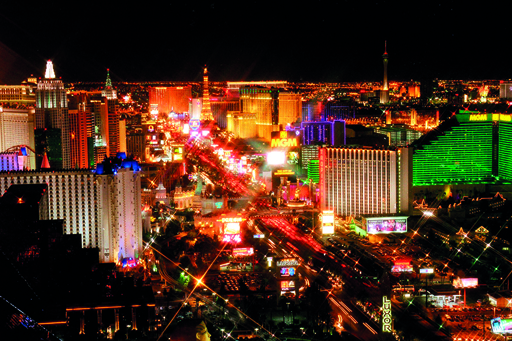 TRIP PLANNER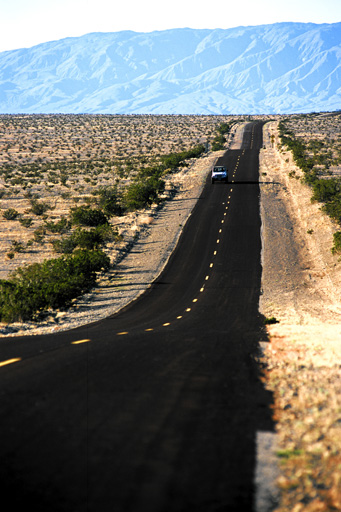 WHERE TO PLAY
Rancho San Marcus: rsm1804.com
Ojai Valley Inn & Spa: ojairesort.com
Lost Canyons: lostcanyons.com
Furnace Creek Golf Course: furnacecreekresort.com
Wolf Creek Golf Club: golfwolfcreek.com
Badlands Golf Club: badlandsgc.com
WHERE TO STAY
Ojai Valley Inn & Spa: ojairesort.com
Furnace Creek Inn & Ranch Resort: furnacecreekresort.com
Mandarin Oriental, Las Vegas: mandarinoriental.com
USEFUL CONTACTS
California Golf: californiagolf.com
Las Vegas Golf: lasvegasgolf.com
California Travel: visitcalifornia.com
Las Vegas Travel: www.visitlasvegas.com
Dream Car Rentals: dreamcarrentals.com
Zen Golf International: zengolf.com
Click here to see the published article.