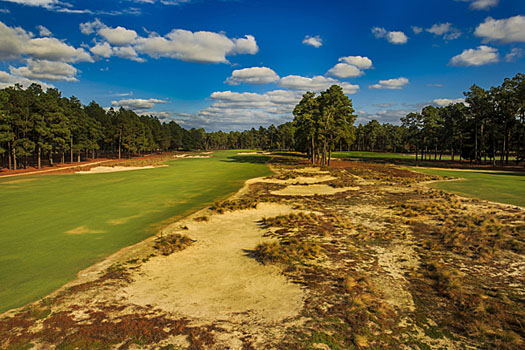 Pinehurst Resort is unquestionably one of America's greatest golfing beacons. The longtime home of famed golf course architect Donald Ross, it was the gathering place of the first meeting of North American course designers in 1947. The resort, consisting of eight layouts, is best known for its No 2 course, the work of its able resident.
Ross, originally from the seaside village of Dornoch in the northern reaches of Scotland, worked on four of the golf courses at Pinehurst, yet it's his No 2 course that gets most of the press - and for good reason. Of all the golf courses Ross designed, and he designed hundreds throughout North America, Pinehurst No 2 was his favorite and his best volume of work. In the book Golf Has Never Failed Me - The lost commentaries of legendary golf architect Donald J Ross, he said this of No 2: "I am firmly of the opinion that the leading professionals and golfers of every caliber, for many years to come, will find in the No 2 course the fairest yet most exacting test of their game, and yet a test from which they will always derive the maximum amount of pleasure" … and he was right.
No 2 has indeed stood the test of time and thanks to a 2011 restoration it now looks and plays similar to how it did during the days Ross resided on the property, where he would pass in 1948 at the age of 75.
Pinehurst represents the type of golf course I enjoy. It has links-like characteristics including the ability to play hard and fast (thanks in part to a sand-base), it is strategically strong, its greens offer great defense and it is playable for every level of golfer. To go further - and this is largely due to its recent restoration - it is also a sustainable model given that irrigated areas have been greatly reduced resulting in less water usage and maintenance requirements.
When the course hosts both the men's and women's US Open this month, golfers will be subjected to a very different course setup than what they've come used to. America's national championship is most always characterised by narrow fairways and long rough, yet at Pinehurst golfers will experience wide fairways and no grass rough. Sand, wire grass and pine needles will dominate the non-mown areas and much like you experience in the British Isles, the ground contours can (and will) dictate some of the play.
I'm an advocate for wide fairways - but only where they offer strategic interest. As is the case at Pinehurst, just like at St Andrews, players are rewarded by positioning their ball to a particular side of the fairway so as best to attack the length or grade of the green and surrounds. Of course the best golfers still need to put a premium on accuracy - this is essentially what narrow fairways do - but the rest of us are still in the game even if we should find ourselves attacking (or defending) from the wrong side of the hole. Grass that is tightly mowed as fairway has obvious benefits as well - it allows the opportunity to highlight existing or built-in contours close to the green. In this particular case golfers needs to negotiate these exposed "humps and bumps" with great skill and creativity using a putter, sand-wedge, 7-iron or whatever club deemed necessary. This is "pure" golf and requires great imagination and skill.
Pages
Click here to see the published article.