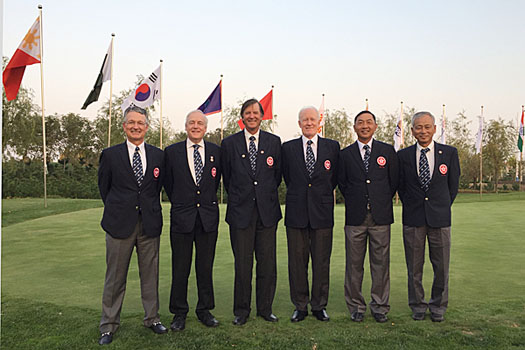 Hong Kong - represented by (pictured left to right) John Ball (playing captain), Tony Taylor, Doug Williams, Joe Pethes, Robert Cho and Chu Koon-ching - performed admirably, finishing the event in fifth place, just nine shots behind the fourth-placed Philippines team but ahead of India (sixth), Korea, Pakistan and Singpaore (tied seventh).

With a length exceeding 6,800 yards, the water-laced Ling Hai course provided an especially challenging test for the field - which was reflected by the fact that only one sub-par score was registered over the four days.
Doug Williams, who has excelled since qualifying as a senior two years ago, was Hong Kong's highest-placed player. The Hong Kong Golf Club member bounced back from an uncharacteristic 85 on day one with scores of 75 and 74 to finish 13th in the individual standings.
Click here to see the published article.