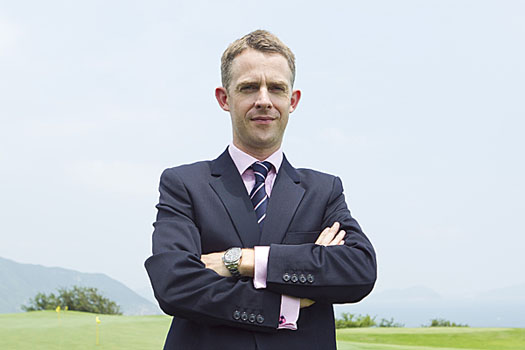 You took on the job at an interesting time for golf in Hong Kong. Media interest in the Government's decision to review the land use at the Hong Kong Golf was at its peak and it was only three months before the Hong Kong Open, which was lacking a title sponsor. Was there at all a sense of 'What have I got myself into here'?
[Laughs] No, not at all. I had been in Hong Kong for eight years working in golf and during that time I worked closely with the HKGA, so I knew what they did; I knew the team, the venues and the committee members well. In every respect I knew what I was getting into and I felt well equipped for that. It was an interesting time and continues to be an interesting climate - I think it is always going to be. That was one of the attractions for me.
I had a wonderful 14 years with Sir Nick Faldo but the HKGA challenge was a really exciting one. The issues that you refer to were already there. They didn't just land on my desk on my first day in the job.
The Hong Kong Golf Club does a huge amount for us and for golf in Hong Kong as a whole - for junior development, for the general public and for the Hong Kong Open - so they will always have our support.
The Hong Kong Open - yes, there were a few issues, but it happened and it was a great event with an exciting finish and a worthy winner. We are working on getting it in good order for 2014 and beyond.
People seem genuinely surprised that in an affluent city like Hong Kong a title sponsor for the tournament couldn't be found. Is that too simplistic a view of how high-level sports sponsorship works, and is finding sponsorship even the HKGA's remit?
It is our remit, but not solely. We work with our partners at the Hong Kong Golf Club and the European and Asian Tours and between us we are all responsible for making the Hong Kong Open happen. The more we work together, the better.
We essentially did have a title sponsor for 2013: the Hong Kong Golf Club. From a corporate sponsorship point of view it was structured differently than in previous years in that we had a group of premier partners, and together with the support of the Golf Club this helped fund the tournament and allowed it to go ahead.
Selling a title sponsorship is perhaps not as easy as it sounds, which has been proved elsewhere in the world with other tournaments, and not just with golf but in other sports too. Having said that, we are confident as a group about the future and are in advanced discussions with potential partners for 2014. The Hong Kong Open has been going for 55 years and there is no reason to doubt it won't continue for another 55 years.
So are you saying the Hong Kong Open can still function without a title sponsor?
Yes it can and it did. It needs sponsors of course - whether it's one title sponsor or two or three premier partners - but there are different ways of going about it.
Pages
Click here to see the published article.