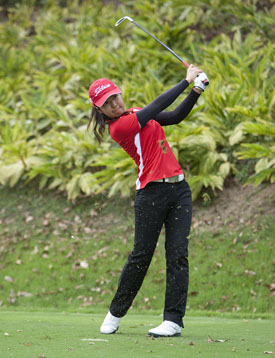 Chan, who finished with a three round total of level par, is heading to the United States early in the new year to continue her education at Redlands Community College in Oklahoma, whose golf team is ranked number one in the region. "I'm excited about going to the US and developing my game over there," she added.
"The hard work that Tiffany has put in the last six months is really paying off," said national coach Brad Schadewitz, who has worked with Chan on her game for nearly a decade. "The China Open is an important event for all the Hong Kong players and it's one she has been targeting, so with Isabella also finishing in contention it's been a really great event for us."
In the men's championship which was played over four rounds at the same venue, Hong Kong's Shinichi Mizuno finished in a tie for 12th, 18 shots back of champion Cameron Davis of Australia.
Mixing With the Professionals
Just one week after her China Amateur success, Chan took her place in the elite field at the Hyundai China Ladies Open, the country's most important professional event, after receiving an invitation on the back of her recent form. Co-sanctioned by the China and Korean LPGA Tours, the three-round event, which was held in Xiamen, included a number of notable names, including world number five Shanshan Feng. Without question the most illustrious tournament that Chan has ever played in, the 19-year-old did herself proud, shooting rounds of 76, 72 and 74 for a total of 222 (eight-over) to earn herself a share of 50th spot. South Korea's Kim Hyo-joo won the event with a 54-hole score of 205.
Pages
Click here to see the published article.