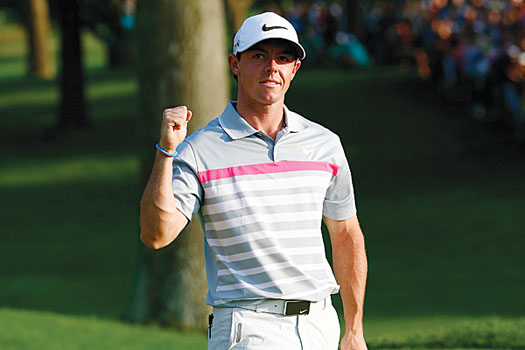 The King is Dead (well at least temporarily indisposed), Long Live the King …
Not since Tiger Woods burst onto the scene in the late 1990s has one man had such an impact on the game. Alistair MacLean, PG Wodehouse and Jeffery Archer between them couldn't have come up with the plot that has seen Rory McIlroy fully emerge from the chrysalis to become golf's undisputed number one and genuine superstar. The circumstances behind his hasty separation from Caroline Wozniacki, his fiancée, in the week of the BMW PGA Championship at Wentworth remain mired in gossip, rumour and intrigue and only his inner circle will probably ever know the full truth. The fact remains though that a rather disconsolate and uncomfortable looking young man went on to win the PGA; a tournament and a venue that he's never particularly relished. Bravo.
The US Open was all about Martin Kaymer with Rory barely in the picture, and the sheer, dominating brilliance of Kaymer's victory made some think that he was the man for all seasons. Then Justin Rose won back-to-back in America and Scotland, the week before The Open, with McIlroy a distant nine shots behind.
Could Rose win three in a row? Not when the young Northern Irishman cranks up his game and starts hitting 340-yard drives straight down the middle. McIlroy did have the best of the weather conditions on Thursday and Friday and the R&A's unique decision to start Saturday's play early from two tees was a huge bonus. Under normal rules he would have been out in horrific weather in the later afternoon and might well have been blown away in the manner that Tiger was in the Saturday storm at Muirfield in 2002. (I'm probably one of the few people who still think it was a bad decision to bring play forward. One suspects though that the R&A will think long and hard before they ever do that again).
But the way McIlroy finished the job on Sunday was clinical and hugely impressive. The WGC-Bridgestone Invitational followed, immediately before the US PGA Championship, where he was looking for three wins in a row and consecutive Majors. That's climbing into pretty heady company, and for three days he looked more than up to the job. But the front nine on Sunday saw an apparently lacklustre Ulsterman showing signs of running out of gas. Mickelson and Fowler ahead of him had the huge crowd baying and with Stenson on the rampage too, they smelt blood. Only Bubba Watson and Patrick Reed had seen the stars and stripes at the masthead of the top tournaments this season and the Kentucky masses badly wanted another home winner.
Pages
Click here to see the published article.