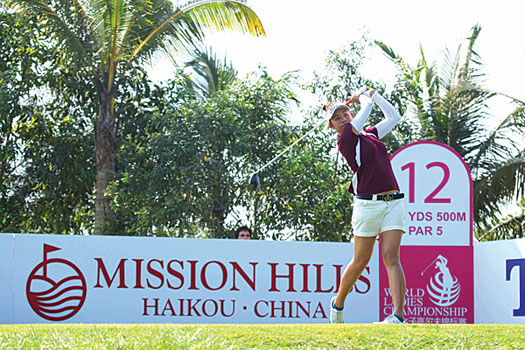 Held over the beautiful Sandbelt Trails Course at Mission Hills Haikou in Hainan, the World Ladies Championship was my first international professional tournament and I was immediately struck by how well looked after the players are at this level. From the Titleist ProV1 balls on the range to the amazing short game and practice putting green facilities and fantastic conditioning of the course itself, everything was set up perfectly.
I arrived in Haikou on Sunday night and really had no idea whatsoever what the week had in store. So to make the cut and finish in a tie for 37th with rounds of 72, 73, 73 and 74 was a great feeling and has given me a lot of confidence in my game. It has reassured me that if I do decide to turn pro after college there is a chance for me on tour – if, and only if, I work extremely hard for it. Just as importantly, it taught me that the hours practicing prior to the Hong Kong Ladies Close Amateur Championship, the tournament I won to get into the field in Hainan, had paid off.
On the first tee of the first round I don't mind admitting that I was a little nervous. To help relax, I told myself that I didn't have much to lose and I should really just enjoy being there. That certainly helped me a lot mentally.
During the second round, I was three-over for the tournament after 15 holes and I wasn't sure what the cutline was going to be. On the 16th, a long par-3, I hit a solid 5-wood to around 15 feet and holed the putt for a birdie. I then managed to birdie the par-5 18th after hitting my pitch really close. That was a very satisfying moment, but I still couldn't be sure if I had made it through to the weekend. I kept refreshing the leader board on my phone until I saw the news that I so wanted: I had made the cut right on the number!
As a result I was fairly relaxed for the final two rounds and managed to put up a couple of decent numbers. I was one of only two amateurs to play all four days and, being the only player from Hong Kong, I was really proud to see the bauhinia – the Hong Kong flag – in the top half of the leader board once the tournament, which was one by Norway's Suzann Pettersen, was over.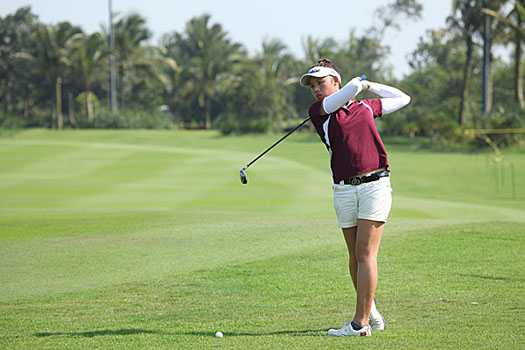 Pages
Click here to see the published article.