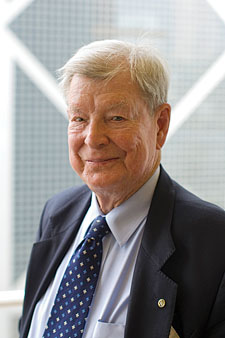 Jock Mackie, who was a member at both the Hong Kong Golf Club and Shek O Country Club during his playing days, was an integral part of the Hong Kong team throughout the 1950s and 1960s and spearheaded the side that claimed the inaugural Putra Cup in 1961.
Born in Penang to Scottish parents, Mackie arrived in Hong Kong, via Singapore and Australia, in his late teens and quickly established himself as one of the then colony's finest players. Having started the game at his mother's behest at the age of eight, Mackie got down to scratch within a few months of joining Fanling and was soon winning titles.
Arguably the most prolific local sportsman of his generation, Mackie represented Hong Kong is six different sports - including rugby, cricket, swimming, tennis and hockey - but it was golf in which he truly excelled.
Mackie first entered employment as a management trainee with Jardine Matheson in 1948, before becoming a sales director with Dennis Hazell & Company, a distribution company that handled Slazenger and Penfold sports goods, two of the biggest golf brands of the era.
It was towards the end of his time with Dennis Hazell, that Mackie enjoyed his annus mirabilis - 1959.
As well as playing in the inaugural Hong Kong Open that year, Mackie, as a key member of the Fanling fraternity, along with the likes of Kim Hall, Alan Sutcliffe and Hugh de Lacy Staunton, helped organise it too. "I remember getting on the phone and calling up the Australian pros to see if they could come and play in it," he said in an interview with HK Golfer in 2009. "It started off small but we put on a very good tournament and look where it is today. We're all very proud of what it has become.
Mackie started that first Hong Kong Open brightly, carding a solid 70 to finish the first round just one shot off the pace. Although a 76 on the second day put him out of championship contention, the very fact that he was representing Hong Kong in the colony's own tournament was, in his own words, "a tremendous feeling."
Pages
Click here to see the published article.