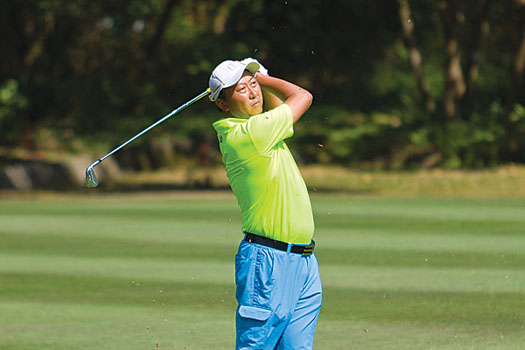 This year marks the 125th since the Hong Kong Golf Club's inception - and the 2014 Club Championship gave us stories that are fully worthy of such an historic milestone.
It began on the first weekend - at the quarter-final stage - with more than a few surprises. Doug Williams' surprisingly poor record in this event continued as he was removed by the veteran John Blackwood, whose fine play was to take him to the semi-final. Reigning champion Tim Orgill's removal by occasional competitor James Barrington was even more unexpected. Three-time winner Max Wong's sub-par win against the formidable Stuart Murray in their match, however, was a portent of things to come. Another fancied player was two-time victor Arnold Wong, arguably the finest putter in the Club. Arnold had a tremendous escape against Tony Taylor, a very fine striker of the ball, in their encounter after coming back from being 2 down with 2 to play before clinching the match on the 21st hole.
In the first semi-final, Max played the promising youngster Leonard Ho. Max was too strong for Leonard and steadily pulled away to win by 4&3. The Blackwood-Wong match featured some very fine golf from both players, but Blackwood's short game uncharacteristically deserted him and he succumbed 3&2, just when he looked to be fighting back. The result: an all-Wong final, Max against Arnold, to be decided over the traditional 36 holes.
A more thrilling final has rarely been seen! The weather was fine and dry, there was a brisk easterly breeze, meaning conditions were ideal for such a match. Over the course of 36 holes, few punters would have given Arnold much of a chance, despite his excellent golf and record as a winner, such is Max's record and recent form. However, from the time Max took four to hole out from the edge of the third green, Arnold pulled away.
Steady play brought him round in approximately 71 strokes, a round in which Max won only one hole, and then only be holing out from a bunker. The putts would not fall, the longer shots were erratic and Max found himself 4-down at lunch. Before long, Arnold was 6-up as Max dropped three shots in a row from the par-5 third, which he again failed to par. At this stage of the proceedings, Max seemed almost defeated by the game.
Pages
Click here to see the published article.