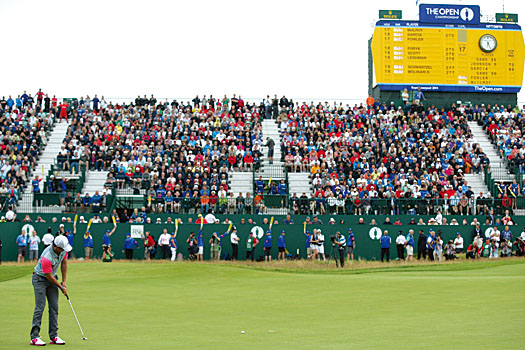 It was back at the 2007 Open at Carnoustie that the then 18-year-old Rory McIlroy talked to the world's press about how he had been totally smitten with the game from the moment he watched Tiger Woods winning the 1996 US Amateur.
"After that," said McIlroy, who won the silver medal for low amateur honours at Carnoustie, "it was Tiger, Tiger, Tiger. He's been the big influence in my golfing life. I tried to copy everything he did."
Mannerisms such as Tiger's pre-shot routine came free but not so the Scotty Cameron putter which young Rory felt he had to have. Indeed, his father, Gerry, can remember wincing as he had the costly implement cut down to the right height for a seven-year-old.
Rory had Tiger posters all over his bedroom wall and, in 2000, he was able to add a signed flag from the first Open Tiger won at St Andrews.
At last month's Open at Hoylake, where Woods finished at six over par to McIlroy's winning tally of 17 under, people were on red alert to see what Woods would have to say when someone posed the question, "What's it like to see Rory dominate in a way that only you have in a major like this?"
Woods, who had won at Hoylake in 2006, was far too wily to let the world know that he was feeling gutted, even if he was.
Instead, he went off at a tangent to give a totally honest assessment of McIlroy's game: "The way he plays is pretty aggressively. When he gets it going, he gets it going. When it gets bad, it gets going real bad. It's one or the other. It's very similar to what Phil [Mickelson] does. He has his hot weeks and he has his weeks where he's off – and that's just the nature of how he plays the game. There's no right way or wrong way."
Pages
Click here to see the published article.