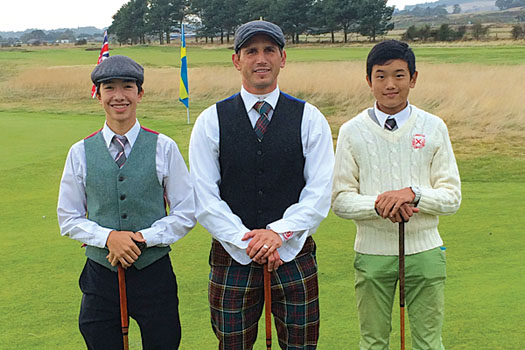 Young Hong Kong golfers and boarding pupils at Loretto Golf Academy in Scotland - 14-year-old Lou Tan and 15-year-old Yannick Artigolle - joined Loretto Golf Academy's Director of Golf and former Hong Kong National Player Rick Valentine to compete in the 2014 World Hickory Open Championship in October.
The event was held over the historic links of Panmure on the East coast of Scotland and the players were all supplied with a set of antique hickory clubs for the event. The players got into the spirit of the tournament by dressing up in the style of the era to compete against a field of over 100 players, including eventual champion and two-time major winner Sandy Lyle.
Loretto has been supporting the event since its inception and Valentine, who was the Hickory World champion in 2012, believes it is a key part of the player's development to experience the history of the game as well as learning how to play with the hickory shafts.
"It's a far greater test of ball striking: with the smaller heads and hickory shafts the players have to really work their ball around the course controlling their swing and ball flight," he said.
The format of the event is 36 holes of stroke play, with the first round also incorporating a team event. After a slow start the Hong Kong team got going on the back nine to shoot a team score of eight-under-par to finish in the centre of the pack. Individually, Valentine continued his good form in the tournament, finishing fifth, whilst Lou and Yannick placed 24th and 47threspectively, which was a fantastic achievement for their first attempt.
Lou commented: "It has been a great opportunity to compete this week and experience hickory golf and I feel it has been a great benefit to my game."
Yannick added: "I can't believe how hard the game was in comparison to modern technology, but I enjoyed the experience and hopefully I will get the opportunity to compete again next year."
The 2015 event is to be held at over the Championsip Course at famed Carnoustie.
For more information about Loretto School visit www.loretto.com
Click here to see the published article.