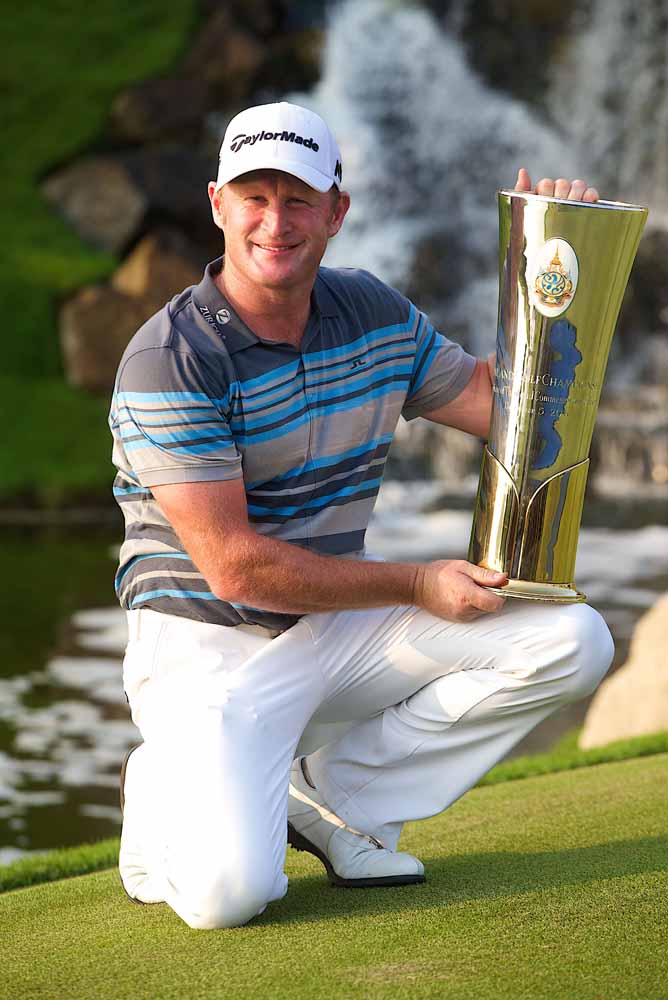 Jamie Donaldson kept his cool in the white-heat of battle to claim the US$1 million Thailand Golf Championship last month, going seven-under par for the final round and claiming a three-stroke victory at the Asian Tour's showcase event.
The Welshman nailed a clutch putt on the Amata Spring Country Club's signature 17th hole, which features a floating island green, just when it looked like his lead was there for the taking.
Donaldson went hard at the hole with his putt on the famous par-3, the ball bounced up for a heart beat … and then it disappeared, as did the hopes of unheralded Frenchman Clement Sordet and two-time winner Lee Westwood who had clawed back Donaldson's lead with birdies to his bogey at the previous hole.
That pair finished tied for second at 18-under par after final rounds of five-under 67 for Westwood and two-under 70 for Sordet.
"It's been a awesome event," said the 40-year-old Donaldson, who was reunited with caddie Michael Donnegy in Thailand for the first time in six months. "The weather's probably been the hardest thing to deal with as it's been so hot all week. But I've had a great week. It's an awesome tournament.

"It was a good job that putt on 17 was on line as if hadn't gone in, it would have been in the drink. But it was right at the middle of the hole all the way. I just had to hope it would stay in and it did.
"I hadn't played great this year so it was important to come here and work hard and kick on from there. That's as well as I can play and I'm really happy."
Pages
Click here to see the published article.