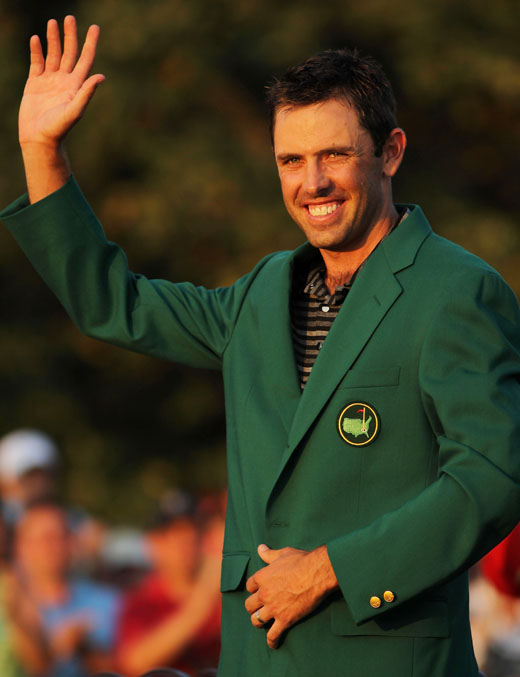 Precisely 50 years to the day after Gary Player became the first South African player to win the Masters, Player's countryman Charl Schwartzel made his own history by birdying the final four holes at Augusta National Golf Club on a monumental Sunday to earn his own Green Jacket.
As roars reverberated through the pines, acknowledging eagles and birdies by the seven other players who either held or shared the lead, 26-year-old Schwartzel, a rake of a man with a muscular game, came from four strokes off the pace with the day's low round of 66 for a 14-under-par total of 274.
Schwartzel joined fellow South African and friend Louis Oosthuizen, the reigning Open champion, in giving the European Tour all four major championship trophies. He brushed off challenges from the Australians Jason Day and Adam Scott, who finished two strokes back; and from Tiger Woods, who charged with a 67, Geoff Ogilvy of Australia and Luke Donald of England, who tied for fourth at 10- under.
Coolly manoeuvring his way through the chaos, Schwartzel hit 16 greens and putted like a machine. Although Woods started all the fireworks, shooting 31 on the front nine to move from seven strokes back to a tie for the lead in eight holes, it was Schwartzel, the unheralded son of a South African farmer and seemingly the only man in contention that the American media failed to highlight following the third round, who rocketed up the rails to claim the championship. Starting with an outrageous chip-in birdie at the first, Schwartzel seized a share of the lead at 11-under at the short par-four third when he holed a sand wedge for eagle from 114 yards.
"So many roars and so much atmosphere out there," the soft-spoken Schwartzel said after becoming the third South African to win the Masters, and the first since Trevor Immelman three years ago. "I've never seen anything like it."
No one had. Never before in the 75 years of the Masters has a champion birdied the last four holes in a final round, though Jack Nicklaus did play them in four under with an eagle, two birdies and a par in his epic 1986 win. And if the eight golfers who held or shared the lead at some point during the raucous afternoon did not set a record, they could not have been far off. Argentine Angel Cabrera, who finished seventh after a 71, and Bo Van Pelt, who closed with a 70 and tied for eighth with South Korea KJ Choi at 280, rounded out the cosmopolitan group of challengers who briefly shared the lead.
Poor Rory McIlroy was another. The 21-year-old Ulsterman, who held a four-stroke advantage going into the final round, bogeyed the first hole and added another bogey at the fifth before making his first — and only — birdie at the seventh. He shot a front-nine 37 to lose the lead outright. He then lost all hope of the title at the demanding tenth.
He badly pull-hooked his drive between two of the cabins left, only 150-yards or so from the tee, then pitched across the fairway. He dragged his third shot into the trees near the scoreboard left of the green, hit another tree with a wedge shot, pitched on in five and two-putted for a triple bogey. It was gut-wrenching to watch – and after he three-putted the eleventh and then ¬– horror of horrors – four-putted the twelfth, CBS decided pulled the plug on any more Rory coverage until they showed him missing a tiddler at the last for birdie.
"I thought I even hung in the front nine pretty well," said McIlroy, who went on to shoot 80 and finished tied for 15th. "I was leading the tournament going into the back nine. Just hit a poor tee shot on 10 and sort of unravelled from there. Sort of lost it at 10, 11 and 12, and couldn't get it back.
"You know, I'll have plenty more chances. I know that it's very disappointing what happened today. Hopefully, it'll build a little bit of character in me as well."
In McIlroy, you couldn't wish to meet a friendlier or more eloquent young man, and not surprisingly he was sportingly gracious in defeat. A loss of rhythm cost him his first major championship; a naturally quick player, the two-time UBS Hong Kong Open runner-up seemingly went into warp speed after reaching the turn – rushing his shots when it would have been prudent to take a moment to analyze his situation and realize his options. But you have to believe him: he will be back at Augusta and contending again.
And what won it for Schwartzel? A combination of things, from a session with Nicklaus last year during which he gave Schwartzel his mental blueprint for all 18 holes, a tip from Nick Price on playing fast greens, and precision iron play and the best pressure putting over the course of the tournament. He took 28 putts, but the four he pumped in down the stretch were as nerveless as those from his countryman Ernie Els in his prime.
After he made the 15-footer on the eighteenth that gave him the Green Jacket, Schwartzel hugged his wife of seven months, Rosalind; his manager, Chubby Chandler; and his caddie, Greg Hearmon, and thanked everyone from Els to Nicklaus and Player to his best mate Oosthuizen.
"This year, Nick Price gave me a really good tip, so did David Frost," Schwartzel said. "Nick said when he came over, he used to find the fastest putt on every green and practice that, and that's what I did for the last three weeks. Every tournament I went to, I just practiced the fastest putt I could find, even though they were only five feet, to learn to hit the putts that softly. It really paid off. I felt so good on these greens this week.
"To see Louis win the Open the way he did, you know, that was a huge inspiration," said Schwartzel. "We grew up together, played every single tournament against each other, and represented South Africa together for so long. Just to see him do it made me realize that it is possible and it just sort of took me over the barrier of thinking that a major is too big for someone to win."
Player, whose 1961 Masters title inspired all the South African contingent of major championship winners who came after him, immediately sent a message to Schwartzel.
"I am absolutely delighted for Charl and South Africa," Player said. "Congratulations and very well done to him, his family and his entire team. That is how you finish like a champion."
It was the second win of the year for Schwartzel, who won the Joburg Open in January, and gives him all the perks that come with a major — a five-year exemption into the US Open, the Open and the PGA Championship and into all the World Golf Championship events. He is the 10th European Tour member to win the Masters, and the first since Jose Maria Olazabal 12 years. "It's obviously the highlight in my golfing career by a long way," Schwartzel said. "You know, I always thought if there was one that I would win, it would be this one."
Click here to see the published article.