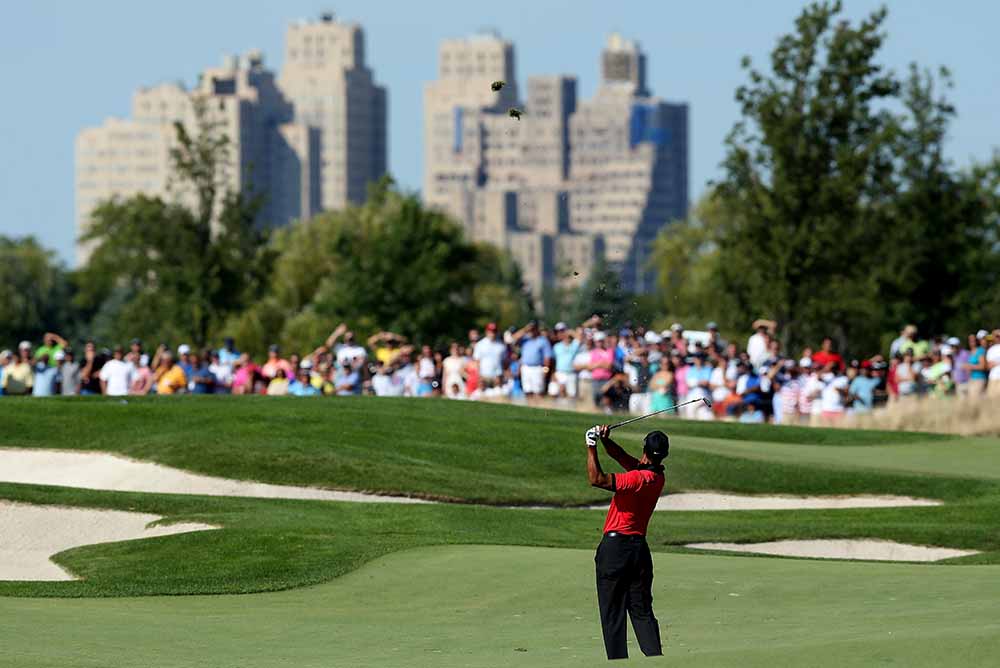 And, as if the odds were not high enough against Nick Price's 12-man team, the venue, Liberty National GC in New Jersey is nailed-on certain to suit and be set up for the USA. That's the name of the game in Ryder Cup, and the Presidents Cup is no different.
Both the front-nine of this dramatic urban course, which sits in the shadow of the Statue of Liberty and the towering Manhattan skyline have three Par-4 holes close on 500-yards – the fourth is a Par-5 measuring 611 yards, favouring the big-hitters of the PGA Tour. And there is both water and sand aplenty to punish anything remotely off the line.
Designed by former PGA Tour star Tom Kite and renowned golf course architect Bob Cupp, at 7,353 yards and Par-71, Liberty National is a golf course on steroids and more than enough to strike fear into the hearts of a talented - but limited - International Team.
Opened for play in 2006 at a reported cost of US$250m, Liberty National has already hosted the Barclays, the-then pre-FedEx Cup event in 2009 and again in 2013, won by Heath Slocum and Adam Scott respectively. So, honours are even on that if no other score.
Then there is the Presidential question; at each event, whether in the USA or elsewhere, there is a tradition of a sitting president affiliated with the event as a quasi-ambassador, Barack Obama - a huge golf fan - twice in 2009 and 2013. Park Geun-hye, President of South Korea when the event was staged at the Jack Nicklaus Golf Club in Incheon, where no doubt, knowing the modus operandi of recently retired PGA TOUR commissioner Tim Finchem, the foundation stones of this year's controversial CJ Cup at Nine Bridges would have been laid.
2017, close to New York City and his Trump Towers HQ in the Big Apple, the 12th Presidents Cup will form the perfect stage for the 45th President of the USA, Donald J Trump.
Never to miss an opportunity for self-promotion and political point-scoring, Trump, himself a keen golfer and owner of a large portfolio of golf resorts including nearby Bedminster and the Blue Monster at Doral will be all over the event like a rash. No doubt using it to his political gain whilst wheeling-and-dealing to have the 2029 Presidents Cup, the next available on US soil after Quail Hollow in 2021 and TPC Harding Park in 2025.
But then the 2023 overseas venue has yet to be announced, what chance is the Trump Moscow Resort rumoured stepping forward to host the event, with his close friend Vladimir Putin as the Presidential ambassador?
Surely not!
Pages
Click here to see the published article.