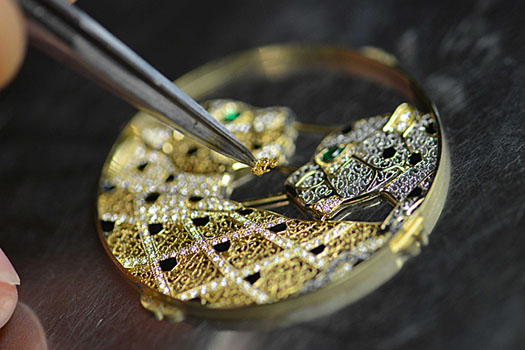 Created in the new Maison des Metiers d'Art on site at La Chaux-de-Fonds, the Ronde Louis Cartier Filigree watch reinvents the centuries-old technique of filigree using a figurative, precious approach. A creative heritage method that is testament to Cartier's mission to perpetuate forgotten crafts and expertise such as granulation in 2013.
The ancient art of filigree appeared in Egypt in earliest antiquity. Its invention is attributed to the Sumerians in around 3000 B.C. before being developed in India, Tibet, Greece and Iran and much later in Portugal where it reached a new level of excellence.
As diaphanous as lace, filigree is a technique of goldsmithing that uses gold or silver wires soldered together in order to create an openwork grid with a desired motif.
For Cartier, the challenge consisted not only in adapting it to the restrained dimensions of a watch case but also elevating this craft by opting for a very precious selection of jewellery materials such as gold, platinum and diamonds.
Pages
Click here to see the published article.