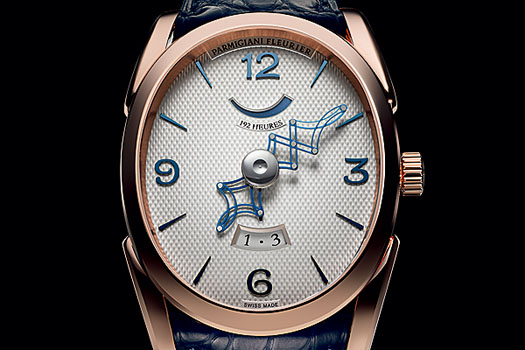 Two months ago in St Tropez, Parmigiani presented an entirely new line: the long-awaited Ovale collection. "It is like an artist's technique," Michel Parmigiani said of the eye-catching oval-shaped case measuring 45mm by 37.6mm. "You don't process the calculations and dimensions; you just sense it is aesthetically pleasing." This groundbreaking collection includes the Ovale Tourbillon, a limited edition Ovale Monsieur A produced in harness with the artist André Saraiva and, my personal favourite, the Ovale Pantographe.
The first prototype of the Ovale Pantographe was shown in New York nearly two years ago at Mechanical Wonders: Antique Automatons and Contemporary Watchmaking, an exhibition of mechanical masterpieces from the collection of the Edouard and Maurice Sandoz Foundation, Parmigiani's parent company. Like the signed 1800 Vardon and Stedman pocket watch that inspired it, the watch is distinguished by its complex telescopic hands that expand and contract to follow the contours of the oval dial as they display the passing hours and minutes.
Engineering the system for the smaller Ovale was more challenging than it appeared, and the watchmaker spent the following two years overcoming several issues. Aside from the intricate construction of the segmented blued titanium hands, one of the biggest challenges was solving the energy demands of the telescopic system. Parmigiani fitted its oldest movement, the manual-winding caliber PF110 that was originally created for Hebdomadaire line, with a module for the retractable hands to create the PF111 with an 8-day power reserve. Given its historical inspiration, the Ovale Pantographe successfully embodies the link between Parmigiani's contemporary watchmaking and its legacy in antique restoration.
The Ovale Pantograph comes in either rose gold or white gold.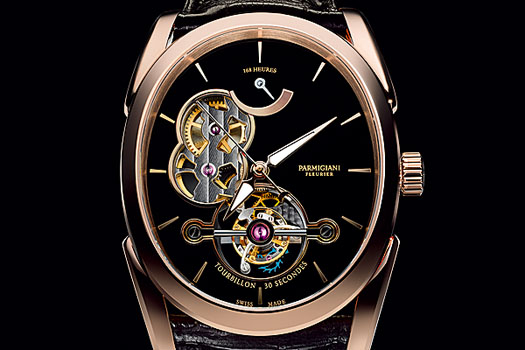 Pages
Click here to see the published article.