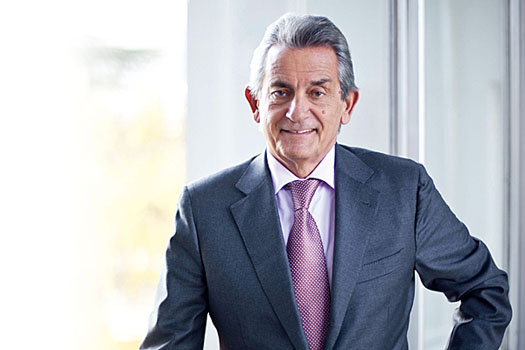 Stephen Urquhart, President of Omega SA, is running slightly late for our meeting, but I'm having too much fun to care. I'm at the PGA Championship in Valhalla Golf Club, near Louisville, Kentucky and I'm in the "Omega Precision Experience." This is a massive booth dedicated to the brand history of the legendary watch company founded in 1848 and which we now associate with the Olympics, men on the moon, James Bond and, more recently, Rory McIlroy. A large part of the area is given over to exhibits on space travel, including a lunar surface with a rover. In the end, I have to get dragged away from the moon buggy I've been getting a bit close to, and which I know Mr Urquhart was sitting in with both Rory and fellow Omega ambassador Sergio Garcia just a couple of days before.
Let me just say up front: the travelling golf media are very fond of Omega. On Friday nights at an Omega-sponsored golf event there is usually a "Media Cocktail" and everyone in the media centre is invited: writers, photographers, scorers, presenters, and cameramen; come one come all. Free-flowing champagne and canapés abound, gifts are dispensed, whilst Stephen and his top lieutenants work the room, making sure the assembled press folk are enjoying themselves and have whatever information they need for their stories. It's unusual, generous and highly appreciated.
As luck would have it, I was first introduced to Stephen at such a gathering at the 2012 Ryder Cup in Medinah and now, two years later, he recalls our meeting. "Ah yes, I remember you very well: the Scot from Hong Kong who knew that the iconic building in pictures of Loch Ness is named Urquhart Castle!"
I asked him about his Scottish surname (pronounced Uhr-curt) and his early days in the watch industry: "My background? A Scottish father who left Scotland after the First World War like most Scots did, because there was nothing going on there. The Scots went to South America, they went to Canada, they went to Hong Kong … a lot of Scots went to Hong Kong! My father went to South America and then up to the West Indies in the 1930s, working in shipping. He met my mother, who had come from Portugal, and they went into the rum business because the family had a wine business and … there it is. I was born in the West Indies, in Trinidad of all places."
After being advised to go to Switzerland to improve his French, he studied Industrial Management at the University of Neuchâtel.
"My first real job was actually with Omega, in 1968, after university. I just answered an ad in the paper. I had no dream to work for a watch company and I knew nothing about watches."
Tellingly, an early role had Stephen responsible for monitoring the first moon landing in 1969, listening for any mention of Omega, which had supplied the timepieces. When the result came back - "zero" - senior management was delighted, as it meant nothing had malfunctioned. He took the same attitude successfully into the 2012 London Olympics: seeking no mention of the name (implying no issues with timing) but plenty of visual exposure on almost every event.
Stephen moved to Audemars Piguet in 1974 and by 1989 was Joint Chairman. He headed onto Jaeger LeCoultre until 1997 when he returned to the Swatch Group as President of Blancpain, before moving back "home" to Omega two years later. Having missed the "quartz crisis" of the '80s and '90s, which damaged the Omega brand, he has overseen a massive resurgence in the company. This was achieved primarily through focusing on reestablishing the brand's manufacturing bona fides, largely driven by the Daniels Co-Axial escapement, and the very astute selection of celebrity ambassadors, to the point where it is now seen as the crown jewel of the Swatch Group.
Over the previous few days we've been chatting informally, whilst attending the PGA Championship and also at a series of events Omega have been hosting in and around Louisville for their top clients. He's not content to sit in the boardroom and is clearly in his element at these events. Charming, urbane, with a dry, laconic sense of humour, he is the consummate host. He has a quirky mix of Swiss reserve coupled with a willingness to simply say what he thinks (much to the chagrin of his corporate minders), usually with a disarming grin. It's fun and infectious.
Pages
Click here to see the published article.