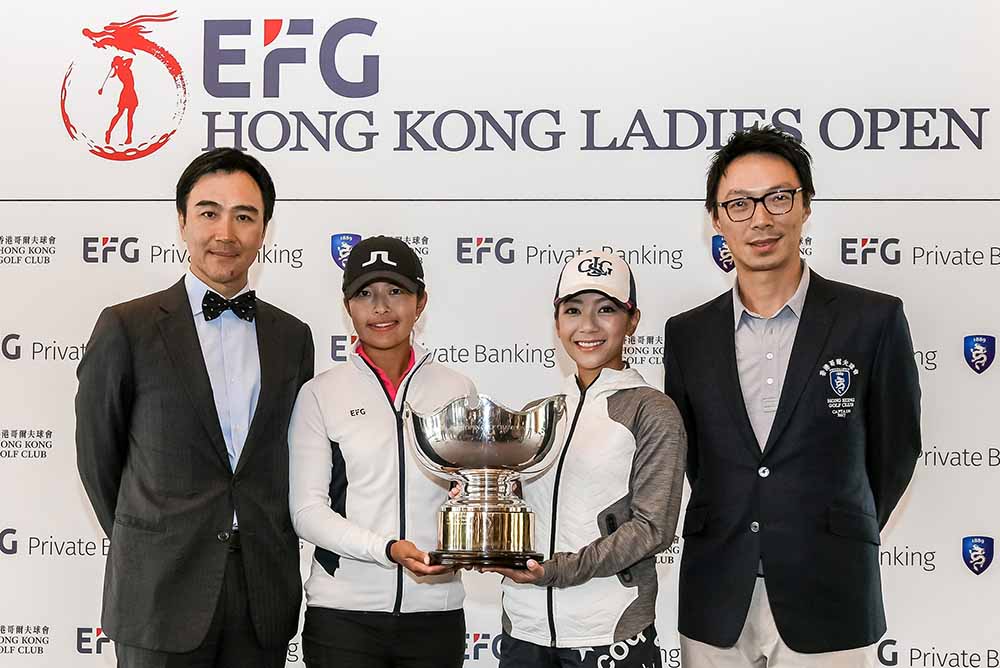 HONG KONG, 7 MAR 2018, (HK Golfer News Wire) - The 2018 EFG Hong Kong Ladies Open will welcome the return of LPGA Rookie Tiffany Chan Tsz-ching as she looks to regain the prestigious championship she last won in 2016.

Taking place on 11th to 13th May at the Hong Kong Golf Club Old Course, the tournament will once again carry a total prize purse of US$150,000. The 54-hole event is sanctioned by the China LPGA Tour, Taiwan LPGA, and the Ladies Asia Golf Tour, and supported by the Hong Kong Professional Golfers' Association, and the Hong Kong Golf Association.
24-year-old Chan became the first ever golfer from Hong Kong to qualify for the LPGA after an impressive runner-up finish at Qualifying School at the end of last year. Having turned professional right before the 2017 EFG Hong Kong Ladies Open in June, the Tuen Mun native strung together a series of strong results on the Symetra Tour, which got her a place in the final round of Qualifying School.
In her first ever LPGA event in the Bahamas in January, Chan played confidently to make the cut and eventually finished in tied 66th place. Chan said:
"I am very excited to be given the chance to play at the EFG Hong Kong Ladies Open again. I have had so much support over the years from my friends and family, the fans, EFG, and Hong Kong Golf Club, and playing in front of my home crowd gives me an opportunity to thank them personally for their constant encouragement. Even though I have only played a handful of tournaments on the LPGA Tour, I have already learnt a lot and I hope I can play well in Fanling so to give everyone something to cheer about."
The 2017 Hong Kong Ladies Close Amateur Championship winner Stephanie Ho will provide another spark to this year's open. One of Tiffany's closest friends from childhood, Ho has recently put her entertainment career on a temporary hold to concentrate on her golf. The pop singer's determined efforts was given its just reward when she took the Close Amateur Championship crown after sinking a 30-foot putt to beat Hu Jing in the playoff.
The 25-year-old said:
"It has been a dream ride over the last few months for me, winning the Hong Kong Ladies Close Amateur Championship and receiving an invite to play at the EFG Hong Kong Ladies Open. Growing up with Tiffany, playing golf professionally was one of my dreams. While golf has taken a back seat the last few years as I pursued my singing career, I was so glad to have the opportunity to commit to golf again and proving to myself I can still do it. Being able to compete against Tiffany and so many world class players again is a dream come true, and I am looking forward to the challenge."
Arnold Wong, Captain of the Hong Kong Golf Club, added:
"The Hong Kong Golf Club is delighted to be hosting the EFG Hong Kong Ladies Open for the fourth time, and to welcome back Tiffany Chan, who has firmly put Hong Kong on the world map of golf through her determination and positive attitude. Our tournament has always attracted some of the best players from the Greater China region and beyond, and the competition is always fierce. It is a popular event for players and fans alike, and offers a platform for young local amateurs to hone their skills against seasoned professionals."