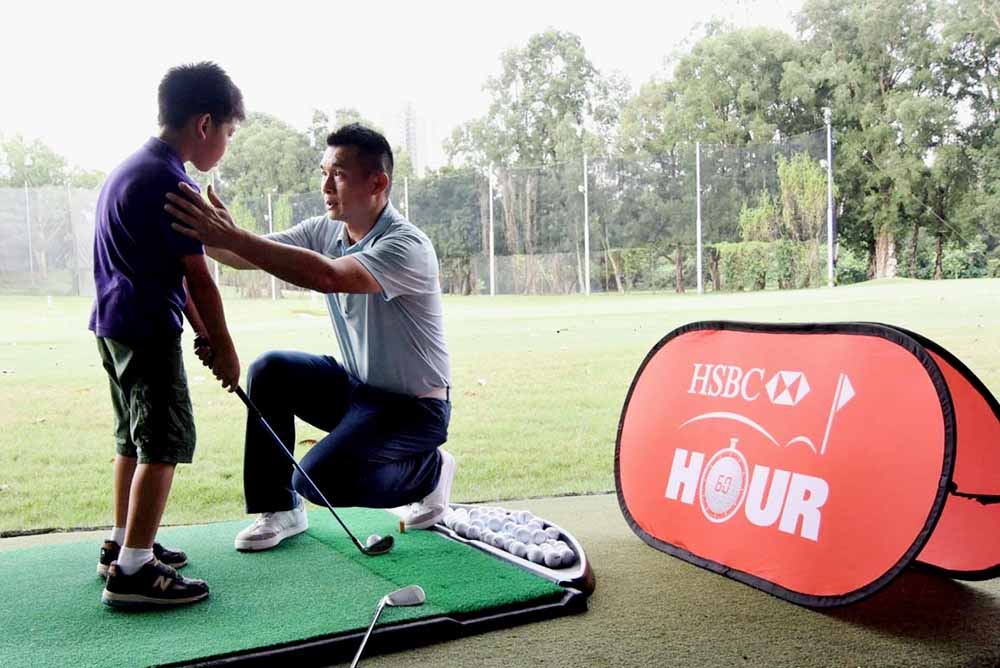 HONG KONG, 25 June 2017, (HK Golfer News Wire) - Long-term international golf sponsor HSBC is bringing the "HSBC Hour" initiative to Hong Kong again this summer with a mission to promote golf to schools and the local community.

Following last year's pilot programme, HSBC is teaming up with Hong Kong Golf Association (HKGA) to launch the second "HSBC Hour" golf experiential week from 3 July, as part of HSBC's global "HSBC Hour" campaign in celebration of the 146th Open Championship in July. This year, 15 primary schools with more than 500 students will have the opportunity to experience the fun ShortGolf training from 3 to 7 July, while the public can join a one-hour free golf coaching session at Whitehead Golf Club on 8 July and learn skills and techniques required for the game. Online registrations for the public session can be made from today until 29 June.
"It is our fundamental belief that golf should be made accessible to everyone irrespective of background, age or ability," says Giles Morgan, HSBC Global Head of Sponsorship & Events. "We are committed to promoting golf to the community and to inspiring more local golf talents. The HSBC Hour programme this year not only provides a great opportunity for the mass public to experience the game, but it also further extends the effort of the existing HSBC Golf For Schools initiative to reach out to the school kids to encourage them to try out the sport."
Sponsored and organised by HSBC in collaboration with HKGA, the one-week Hong Kong "HSBC Hour" will start with the HSBC Golf For Schools Week involving 15 schools, giving them the ShortGolf training - a new and unique "first touch" training system which makes it fun and easy to teach and learn golf at school. All the ShortGolf classes during the week will be conducted at South Yuen Long Government Primary School, which also serves the purpose of extending the current network to more schools in the New Territories. The ShortGolf classes are part of the HSBC Golf For Schools initiative under the HSBC-sponsored Hong Kong Junior Golf Programme launched in 2015. For students who have completed Advance-Level ShortGolf, they may enter the next phase of the pathway with real golf coaching at a local golf course or training facility.
On Saturday, 8 July, two sessions of one-hour free golf coaching will be open to the public at 10am and 3pm at Whitehead Golf Club's driving range. Everyone, aged five or above will be eligible to register via HKGA for trying out the sport. Registration has to be made by 29 June and HKGA will be in touch with the successful applicants for confirmation. Professional golf coaches will be stationed at the course teaching participants to hold the club, stand to the ball and make a basic swing. 
"We are delighted to support the Hong Kong HSBC Hour campaign again this year which opens up an opportunity for a wider community to enjoy the fun of golf," says Danny Lai, Chief Executive Officer of the HKGA. "We are grateful for HSBC's long term support on junior golf development. The 15 participating schools are all new to golf and we hope that the golf training can inspire more school kids to explore the sport."
HSBC Hong Kong Junior Golf Programme offers a structured pathway for children to learn golf and kick off their journey in the world of golf. The programme includes the HSBC Golf For Schools initiative which introduces primary school students to basic golf skills through ShortGolf, Golf Fun Days, and monthly golf clinics. Shortlisted participants will progress to the HSBC Junior Development Programme that offers professional training and opportunities to represent Hong Kong on the regional and international stage. The HSBC Golf For Schools initiative has delivered training to 23 local primary schools and has conducted demonstrations and introductions to golf for more than 17,000 children.
Details of the public HSBC Hour:
Date: 8 July 2017 (Saturday)
Time: Session 1: 10:00am-11:00am; Session 2: 3:00pm-4:00pm
Venue: Whitehead Golf Club (STT 1950, Whitehead, Ma On Shan)
Eligibility: Aged five or above
Quota: 100 per session
Registration: Send an email to sufina.lui@hkga.com with your preferred session and personal information with the subject 'HSBC Hour Registration'. Registration will close on 29 June and a ballot will be run to allocate places.
For details and terms and conditions of the registration of HSBC Hour public session, please visit www.theopen.com/HSBCHour/HongKong.