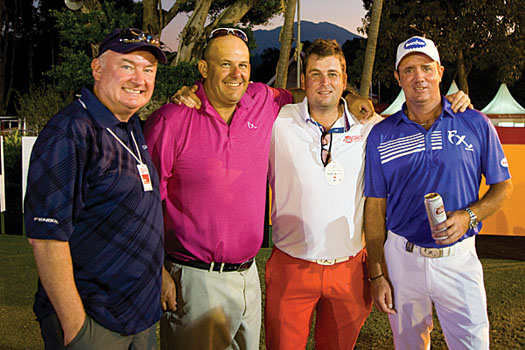 The Thailand-based company, which is owned by Scotsman Mike Moir, was making its debut as Official Apparel Sponsor for the Hong Kong Open, and Moir, an accomplished amateur player himself, revealed the partnership is clearly working for both FENIX and the long-hitting Australian.
"This is the third time I've played with Scott in a Pro-Am and he has gone on to win all three events," said Moir. "During our round together I challenged him off the back tees and I was 4up after seven holes. Needless to say, he was not in a good mood. I made a comment on our eighth hole and that spurred him into action. He proceeded to go seven-under for the last 10 holes and beat me 2&1."
As far as FENIX's involvement with the Hong Kong Open was concerned, Moir was delighted.
"The event itself was fantastic for us and Scott winning was the icing on the cake," he said. "Of course it meant remarkable exposure for us and that is fantastic, but I am equally delighted for Scott, who is a good friend, and he has achieved what he rightly deserves. I hope this is the start of even bigger things for him and FENIX Golf."
Click here to see the published article.