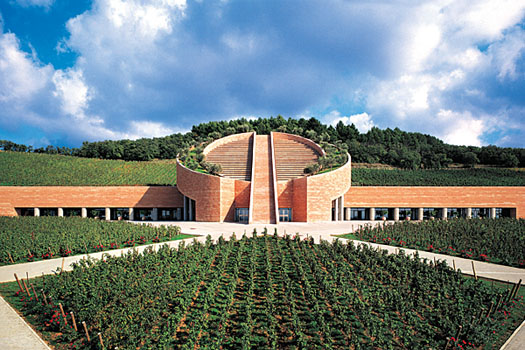 If you think of wineries as bare production factories this will make you reconsider. Many estates have called in notable architects and designers to give a new life to their cellars - as long as the product remains of top quality. Let's get a taste - in no order of preference - of the new art of winemaking.
EUROPE'S TOP 5: BACK TO THE FUTURE
Chateau Cheval Blanc, Saint Emilion, France: in 2011 The Grand Cru Classe A on the right bank opened a brand new cellar that quickly became revolutionary in the world's wine capital. The piece by architect Portzamparc is a jewel of understatement and harmony, a natural home for this Cabernet Franc – Merlot wine. For the history: Chateau Cheval Blanc 2011 (RP 96).
L'AND, Alentejo, Portugal: As the Alentejo region is one of the largest producers of cork, it is natural that the area boasts its share of wineries. Amid forests and olive groves, L'AND winery is a little islet of modernity… both for its red wine and also its boutique hotel, Michelin-starred table and its spa. For the adventure: L'AND Vineyards 2010 (DWWA 2013).
Marques de Riscal, Rioja, Spain: The oldest winery in La Rioja is also the one that showed the world the new face of Spanish wine. Known for the Guggenheim Museum in Bilbao and Opus in Hong Kong, Frank Gehry turned the ancient property into a breathtaking chateau-spa. For the senses: Tempranillo Marques de Riscal Gran Reserva 1964 (WS 98).
Chateau Smith Haut Lafitte, Graves, France: In an area that cultivates tradition as carefully as it grows wine, the Cathiards have brought poetry to the vineyards. Enjoy sculptures like "Papier Froisse" by Wang Du, "Hospitality" by Flanagan and "Nousaison" by Hoberman. For fresh perspectives: Chateau Smith Haut Lafitte Blanc 2009 Sauvignon Blanc (RP 98).
Petra, Tuscany, Italy: Named after the goddess of Earth, this winery design is virtually an ode to the Etruscans and the Greeks. Designer Mario Botta created a new version of the old, typical Tuscan houses, with local stones, arcades and a central, inclined panel of flowers. For the meditation: Petra Toscana IGT 2006 (WE 92).
Pages
Click here to see the published article.