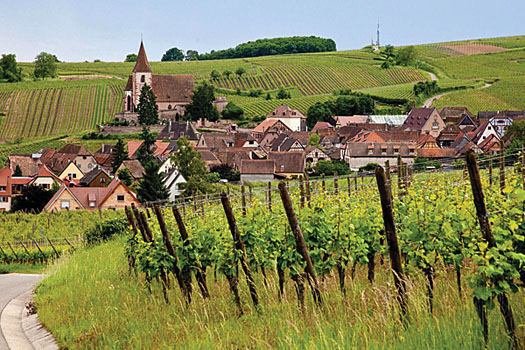 Nestled in the eastern part of France, between the country's Vosges mountain range and the Black Forest of Germany, the region of Alsace has many a story to tell. Recently, the wineries of Alsace have been featuring the majestic stork in their communication – and not without reason: a symbol of fertility in Alsace, it is the storks that deliver babies to the Alsatian ladies that have laid a few cubes of sugar by the windows of their houses in the hope of conceiving. The long-legged bird flying over houses and vineyards is a promise of a fruitful harvest.
White Wine Wonders
The story of Riesling, Pinot Gris and Gewürztraminer begins in Alsace. Germany and Australia also produce delicious variations of these grapes, however it is Alsace which is where it all started. The region counts 53 AOCs (Appellation d' Origine Controlee) with AOC d'Alsace, AOC d'Alsace Grands Crus, which recognizes the most exceptional terroirs; and AOC Cremant d'Alsace, the jewel in the crown of sparkling wines. Desired by kings for millennia, Alsace has been a battlefield for Celts, Romans and, more recently, the Germans and French.
Alsace's location is not just strategic, it is also perfect for growing other grapes such as Pinot Blanc, Muscat, the very local Sylvaner or the rarer Savagnin grown for Klevener de Heiligenstein wine.
The two Alsatian wine heroes are Vendanges Tardives (late harvest) - grapes that are intentionally picked over-ripe, several weeks after the official harvest time, adding flavour intensity to the profile of the grape itself - and Selection de Grains Nobles (selection of noble grapes), which is made only from grapes with noble rot (botrytis cirenea) and which are hand-picked one by one in successive passes.
Pages
Click here to see the published article.