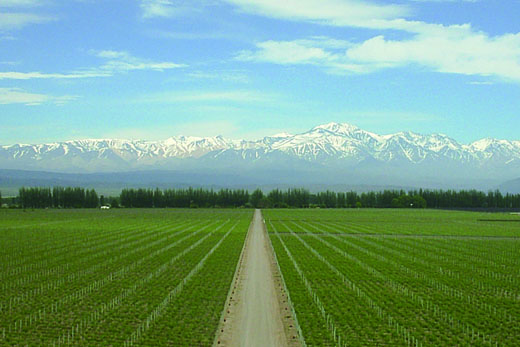 Argentina, like Chile, is working hard to trade up. More expensive wines are being made, particularly from Malbec which has become established as the country's signature red wine grape.
But in terms of quality for price it seems to remain generally true that the smart buys are at less than HK$400 – quite often much less – and that those planning to spend more should ask themselves how much they are willing to pay for the marketing and packaging. The Catena family, who have been planting Malbec – a Bordeaux varietal – in Argentina since 1902, are among the most important pioneers of Argentina's wine industry and have been major contributors to putting Malbec and Mendoza Province,
now Argentina's most important viticultural region, on the world wine map. The winery, under winemakers Nicolas Catena and his daughter Laura, makes some of the most highly esteemed wines to have been produced in the country, and offers a balanced portfolio of wines made from different vineyards relatively high in the foothills of the Andes.
Growing at high altitudes concentrates polyphenols in the grapes, and there is some evidence to suggest that heart- health benefits from Argentina's reds may be greater than those from wines made from grapes grown closer to sea-level.
Be that as it may, HK Golfer assembled a small group of interested wine lovers to try a selection of Malbec wines from the Bodega Catena Zapata, supplied by Watson's Wine Cellar.
We started, however, with a 2008 Catena Alta Chardonnay, relatively highly priced at HK$388 per bottle, perhaps because 80 per cent of the grapes used come from a special parcel of land in the Bodega's Adrianna Vineyard at an elevation of almost 5000ft. The other 20 per cent come from the Domingo Vineyard at an elevation just over 1000ft lower.
The wine has pronounced acidity with plenty of citrus, stone fruit and honey, and will be most enjoyed by those who like their Chardonnays well oaked.
A serious food wine rather than one suitable as an aperitif, this Chardonnay was tasted, as is the HK Golfer custom, with cheese, but the wine maker's recommendation of pairing it with chicken marinated in lime and honey makes better sense.
On to the Malbec, and our first wine after a shaky start got progressively better. The 2008 Catena Malbec still has young-tasting chewy tannins that suggest it would benefit from more time in the bottle, but a little air goes a long way towards softening them.
Dark fruits dominate on the palate and although the wine was initially rather closed it opened up over time and notes of leather and mocha began to emerge. It went well with a good Brie and would probably be quite a reliable steak wine, priced at a fairly reasonable HK$165.
The second Malbec, a 2007, belonged to the Catena Alta range, made with grapes from vineyards with elevations ranging from just under 3000ft to just under 5000ft. This too opened up, and having another year of bottle age, as well as better quality fruit, gave it an advantage over the first wine that became more apparent over time in the glass.
It has a similar dark fruit character, but as you would expect at more than double the price, greater complexity with notes of chocolate, cinnamon and lavender and softer tannins. This wine is currently on offer at HK$345, but normally priced at HK$418.
The highpoint of the tasting should have been the Catena Zapata Malbec Argentino 2006, made from old vines in high elevation wineyards.
Micro-fermented in new French Oaks barriques before being aged for 24 months in new French Oak, and shipped in one of the thick heavy bottles that have become a hallmark of the premium end of Argentina's Malbec production, it sounded promising. We decanted two hours before the tasting, and much of the intense cassis originally apparent on the nose had dissipated by the time the wine was poured.
Although this was agreeably mineralic, with a good harmonious balance of sweet berries and spices with tobacco and mocha notes, there was a consensus among the oenophiles present that even at the offer price of HK$728 the wine was uncompetitive with others in the same price bracket. Two bottles of the Catena Alta Malbec 2007 at HK$690 would have been a much better deal. The regular retail price for the wine from Watson's is HK$898.
For those who care about such things Robert Parker gives the Catena Alta Malbec 2007 92 points, and the Catena Zapata Malbec Argentino 2006 96. That works out at about HK$100 per point of difference.
Click here to see the published article.