Special Offer! Only HK$550 per bottle! Click here

Clarendon lies about 25 miles south of Adelaide, just northeast of McLaren Vale. Boasting a unique micro-climate the area attracted the attention of a visionary biochemist with a blazing passion to produce some of the world's best wines. Roman Bratasiuk, the larger than life vigneron, redefined Australia's fine wine landscape when he began Clarendon Hills winery in 1990. Now, in a remarkably short period of time, international critics consider him amongst the greatest winemakers in the world.
Simply put, his stated vision was to create single vineyard wines equal to anything in the world. Working with old, dry-grown vines almost a century old and performing every step of the process by hand, Bratasiuk sought to redefine the Australian fine wine landscape by solely conveying the imprint a vineyard forges on the varietal expression. Every year the pragmatic and calculated winemaker learned a little more about his vineyards capabilities and pushed a little further to propel each one of the 100 per cent varietal wines ever upward.
The winemakers of Clarendon Hills refer to themselves as "varietal expressionists" and it's easy to see why. They pride themselves on their creation of individual expressions, vineyard by vineyard.
The winery boasts almost 20 separate vineyards, each with their own distinct and varied soils, sub-soil geological phenomena and aspect.
The Clarendon pocket benefits from it's elevation, parts being over 300m above sea level, and this gives the vineyards a distinct quality compared to the flatlands of nearby McLaren Vale. The topography of the land allows the cooling afternoon sea breeze from the Southern Ocean to move quickly through the canopies. It also allows picking to take place two to three weeks later than at the lower McLaren Vale strata.
The vines are an original species of pre-Phylloxera vines which aren't genetically modified.
These pre-Phylloxera vines display an incredible forecasting ability by calculating the conditions and resources, and adjusting their behavior accordingly. It is this "will to survive" that gives these plants their amazing longevity.
A key vineyard in the Clarendon Hills stable is the Hickinbotham Estate. Alan Hickinbotham bought the estate in 1960 and his family have been instrumental players in the Australian wine industry ever since.
Clarendon Hills sources grapes from this stately vineyard to produce a single site old-vine Grenache. Richly compact soils provide depth and a signature across the varietal spectrum, and the ancient vines supply the extraordinary fruit for this superb single varietal gem.
Matured in one and two-year-old Burgandy oak casks, Roman maintains that Grenache is ideally suited to warm, dry climates, the vines displaying a remarkable ability to 'not shut down' when the weather gets too hot.
Significantly, Robert Parker is a fan of Clarendon Hills, especially the Grenache. As he said in 2001: "I have long been an admirer of the Clarendon Hills Grenache cuvees, and have purchased and drunk more than my fair share, always with exceptional pleasure."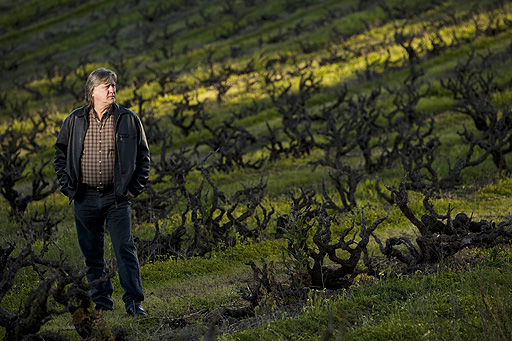 In particular, he singled out the 2001, declaring that: "Barrel samples of this wine look to be one of the greatest Grenaches this extraordinary winery has yet produced. There are about 800-1,000 cases of this single-vineyard Grenache, which is made very traditionally in open-top fermenters with punching down. To reiterate, it goes in the bottle after indigenous yeast fermentations. This wine spends 18 months in primarily old oak prior to being bottled without fining or filtration. It is among the finest Grenache-based wine made outside of France's Southern Rhone Valley. 92-93 points."
He later added that "The 2001 Grenache Old Vines Hickinbotham Vineyard is a winner. This full-bodied, earthy, peppery wine is loaded with licorice-imbued black and red fruits. Expressive, elegant, and lush."
Harvey Steiman agreed in Wine Spectator, writing that the wine "strikes an uncanny balance between its elegant, refined frame and its dark, powerful black cherry, blackberry and rose petal flavors, hinting at white pepper and cream as it all lingers effortlessly. 92 points"
Now a decade old, the 2001 has matured beautifully. It is a lovely rich wine, earthy and with rich red-berry fruits. Delightfully full-bodied it is almost port-like in appearance. It has velvety tannins and boasts a long smooth finish. Patience is rewarded, and this should be decanted an hour before enjoying. This is an exceptional wine, one that is drinking beautifully right now.
HK Golfer can offer a very small parcel of the 2001 Clarendon Hills Grenache Old Vines Hickinbotham. At their peak, retail prices exceeded HK$1,100 per bottle but we can offer the wine in cases of 12 for only HK$550 per bottle. Minimum order of 12 bottles; professional storage available if required. Delivery anywhere in Hong Kong at cost. Offered subject unsold.
Please order by email: wine@hkgolfer.com or call (852) 3590 4153.
Click here to see the published article.