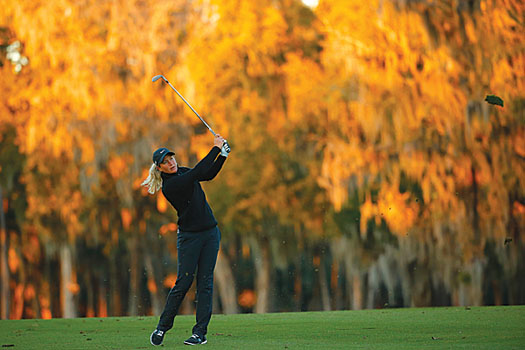 A Closer Comparison
The depth of the women's game has never been greater, with so many good young players coming up. I remember when I was the youngest and now I'm more like the oldest! That's another great thing about golf - the longevity of it if you can stay healthy. I think people can relate more readily to our game because the men's game is outrageous - they hit it so far and are so powerful. From what we see and experience in our Pro-Ams, good male amateurs are very similar to us. You just can't compare yourself to what the guys are doing - it's insane at times.
Keeping Up With the Girls
The men in Pro-Ams try to outdrive us all the time! Once in a while you get the guy who can bomb it 300 yards, but most of the time I can take care of business, although sometimes you have to step on it to do it! But Pro-Ams are great - 99% of the time you meet great people. You see some of them year after year, so it's always nice to come back to certain tournaments. You get to have good friends pretty much everywhere.
More of a Power Game
You could probably say women's golf is becoming more of a power game too, but that being said, Lydia Ko is not necessarily a bomber - she's just very good overall. The best females over the last 10 years have all been great putters: Inbee Park makes everything; Lydia makes everything she looks at. But our courses are getting longer too. The US Open this year was 6,900-7,000 yards, so it is an advantage to hit it far.
Think About it More
Average golfers could save themselves so many shots with better strategy, probably on the tee more than anything, but also on certain approach shots. Sometimes 3-wood is the play off the tee to give yourself a good yardage instead of being in between clubs. And then there are certain pins you just don't go for, where par is a good score or middle of the green is good, and you take your two-putt and move on. But at the same time, if you're never going to push your own limits, it's going to take you longer to get really good. We have great caddies to guide us along, especially if you're playing well and feel you could take on anything.
Pages
Click here to see the published article.