Darryl O'Young is a cool guy. Very cool, in actual fact. I know this because whilst driving the Porsche Carrera we were zooming round Zhuhai International Circuit in, he answered his phone. There was me, the scared sick journalist, grabbing onto the door handle, my knuckles shining a bright white hue, too frightened to open my eyes and acknowledge the sharp right hand turn ahead of us. Darryl, meanwhile, is chatting away to the caller, completely oblivious to the apparent danger ahead.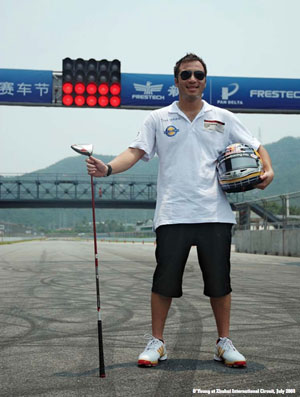 I shouldn't have been that worried, of course. Darryl is, after all, Hong Kong's premier motor racing driver. A man who races both in Europe, in the Porsche Mobil 1 Supercup—an event which seems him battling it out in front of crowds in excess of one hundred thousand—and in Asia, in the Porsche Carrera Cup, which he has won for the past two seasons. The guy knows how to drive, all right.
He puts away his mobile, his eyes focused on the tarmac ahead, and tells me how much he's looking forward to playing golf later. Of course! The reason I'm here is because Darryl has a new love—one that takes him away from the turbo- charged engines, the glamorous post-race cocktail parties and the pit lane chicks. Darryl loves golf.
"I think drivers and golfers are very similar in what they do," Darryl says as we motor our way—by golf cart this time—to the first tee at Lakewood Golf Club, which neighbours the Zhuhai track. "When I'm driving, I'm not thinking about my technique, I'm not thinking about how to drive—it comes automatically. Good golfers are the same. When they swing, they're not thinking about how they're actually going to hit the ball—it's automatic. They're just doing what comes naturally to them."
Darryl, by his own admission, hasn't yet reached that stage of his golfing career. But in fairness, he's only been playing the game for a little over six months. This Lakewood jaunt is only his third time on the golf course.
Pages
Click here to see the published article.