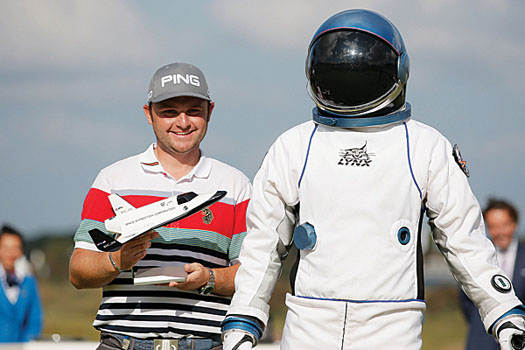 It's not just in Switzerland that these guys live in rarefied air. Not so thin though as that which Englishman Andy Sullivan won the right to experience, the following week at the KLM Open. With only two groups to come after him on Sunday he holed-in-one at the super-tricky 15th to earn a US$100,000 trip into space as a tourist with XCOR Space Expeditions. He admits to being "scared of heights and not the best flyer", so it should be a bundle of laughs. He's got a couple of years to think about it, so he'll probably be a nervous wreck by the time they launch.
At the KLM, Paul Casey became the fourth most successful Englishman with his 13th tour win. He needs five more to catch Mark James, with Lee Westwood having won 23 and Sir Nick Faldo 30. Would Paul McGinley have picked him for his Ryder Cup team if selection had been delayed a little? Would Tom Watson have gone for FedEx Cup Champion Billy Horschel? There's certainly a case for the captain's to make their selections closer to the competition, regardless of what ever happened at Gleneagles. Casey incidentally was feeling chilled after recently becoming a father for the first time. His son Lex has already been dubbed "Ro" by the witty caddie fraternity.
Watch out! Or "fore!", as we should shout.
Unfortunately Alexandre Kaleka's drive on the 14th at Kennemer was so far off line that a stunned Fabrizio Zanotti wouldn't have heard if they had screamed it. Collecting the full-blooded blow slap bang on the forehead he went down like a sack of potatoes. Fortunately the only long term damage he sustained was a Titleist tattoo. Play had to be halted, because groups were stacking up behind and it took two hours and twenty minutes before they resumed. His friends and colleagues were naturally concerned for his health, but a doctor was on hand within five minutes and one can't help thinking that had it been a spectator who'd been struck they would have ploughed on regardless.
Pages
Click here to see the published article.