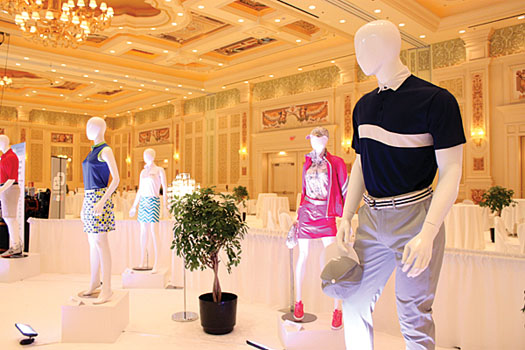 Golf tradeshows serve as a vital opportunity for retailers and PGA Professionals to stock their stores and pro-shop shelves with exciting gear and new products. Manufacturers and brands showcase their latest creations, as well as upcoming collections, in hopes to garner orders that showcase their brands to the golfing public.
Well, tradeshows are exhilarating for writers and media outlets, too, as we get to see, touch, and check out new gear that few get to see until later. And this was truly the case at this year's PGA Fashion and Demo Experience in Las Vegas. Held in mid-August at the Venetian Resort in Las Vegas, this year's event was the first time the show floor was limited to apparel and accessories brands, with an off-site equipment showcase at nearby Cascata Golf Club.
From iconic brands, such as J.Lindeberg and ECCO Shoes, to smaller boutique labels such as QED Style and Seamus Golf, all showcasing their current Fall 2014 and upcoming Spring 2015 collections of clothing, accessories and gadgets, the show floor provided a look into what will soon be on the shelves of your favourite retailers.
Here are five highlights from the PGA Fashion and Demo Experience that were immediate eye-catchers:
Pages
Click here to see the published article.