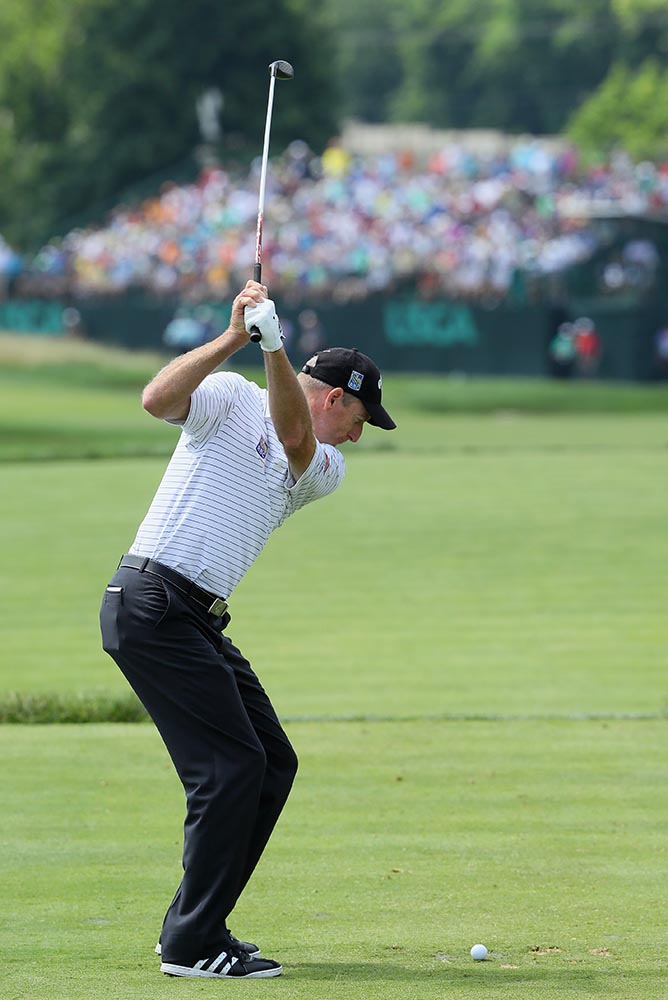 Until one day last summer that is. Now this is what happened.
I was caddying on The Old Course for a lovely gentleman called Sean from Ohio who turns out to be a teaching pro and as a youngster had played alongside (and beaten) Zach Johnson. However, he was in no way a priggish or arrogant chap at all but the humblest lovely gentleman. He was out with his delightful wife and brother in law who were walking around and they had paired up with another chap who owned a successful cigar business in Nicaragua. Now the chap who owned the cigar business was obsessed with golf and told me he came here annually to play. The trouble was he had an awful swing along the one piece takeaway taught method.  I felt deep sympathy for him and watched him agonizing his way round, moving the club back in a manner which was, I dare say, the synthesis of reading overly on technique and paying far too many subscriptions to Golf Digest. It was painful to watch and needless to say he hit the ball very badly and with little power whatsoever, for a man with a great physique.
And then Sean stood up and effortlessly hit the ball about three hundred yards down the fairway. In fact, he caught me off guard as a caddie on the first hole as into a stiff wind I put him into the Swilcan Burn! Lucky he was an excellent dude. He played brilliant golf.
Anyway, the end of this story came on the thirteenth fairway when I emptied my soul to Sean and explained my golf swing woes. I said I had a huge issue with the wrist hinge and the take away. Something that had haunted me for so long. And what he said moved the earth from under me. 'Oh, I don't worry about that and just set my wrists immediately'. He had repudiated all received wisdom in a single line and set me free. The philosopher's stone of the golf swing for me in a lesson of forty seconds and for which I had waited forty years. I should simply hinge my wrists immediately and then make a big turn and hit the ball.
I rushed to the driving range next day and yes it had transformed my striking and swing. I could finally swing the club naturally. I was hitting the ball over the fence at the back of the driving range onto the 16th green of the Old. Very naughty but may I say but how immensely satisfying. I was like a kid with a new toy.
And a lovely man called Sean from Ohio is to blame.
Pages
Click here to see the published article.