1 John Daly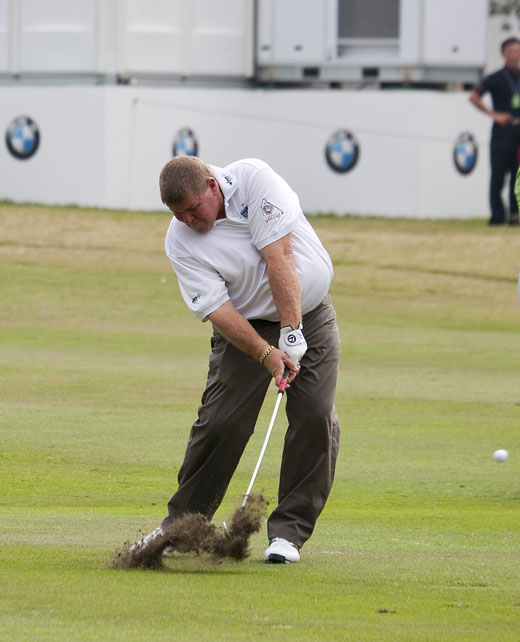 Daly exploded onto the world golf scene in his rookie year of 1991, when he won the USPGA Championship at Crooked Stick. He had been the ninth (and last) alternate into the field and had to drive through the night from his Arkansas home in order to make his first round tee time. Without even having a practice round, Daly fired a 69 and ultimately won by three shots from Bruce Lietzke. Perhaps not surprisingly, he was named PGA Rookie of the Year.
From the very start, unfortunately, Daly – aka "The Lion", "Long John" and "Wild Thing" – became better known for what he did off the course than what he achieved on it. Battles with alcohol and drugs dogged his early career and Daly soon found himself the subject of several lawsuits regarding drunken domestic disputes. In all, Daly was divorced three times and although his weight has always been an issue, it was in the midst of the tabloid frenzy of the early nineties that he ballooned over 300 pounds.
Despite all this, he miraculously managed to win a second major, the 1995 Open Championship at St Andrews, where he beat Constantino Rocca in a playoff. He has won a total of five PGA tournaments and would have contended a great deal more had he not thrown away leads with spectacular blowups – Daly seemed to be the master of mounting up double digit scores on individual holes.
Throughout his trials and tribulations, he retained his reputation as a superb short game player, renowned in particular for his soft hands and touch on and around the greens. In 2008, he shot a spellbinding 62 in the final round of the UBS Hong Kong Open – missing the course record by a shot – despite only parring the final four holes.
Following "Lap Band" surgery in 2009, which limits the amount of food he can consume, John started shedding the pounds and currently weights in at under 185. Unfortunately, his game seems to have gone the same way as his girth and in 2010 he announced he was quitting the tour. Watch this space.
Pages
Click here to see the published article.