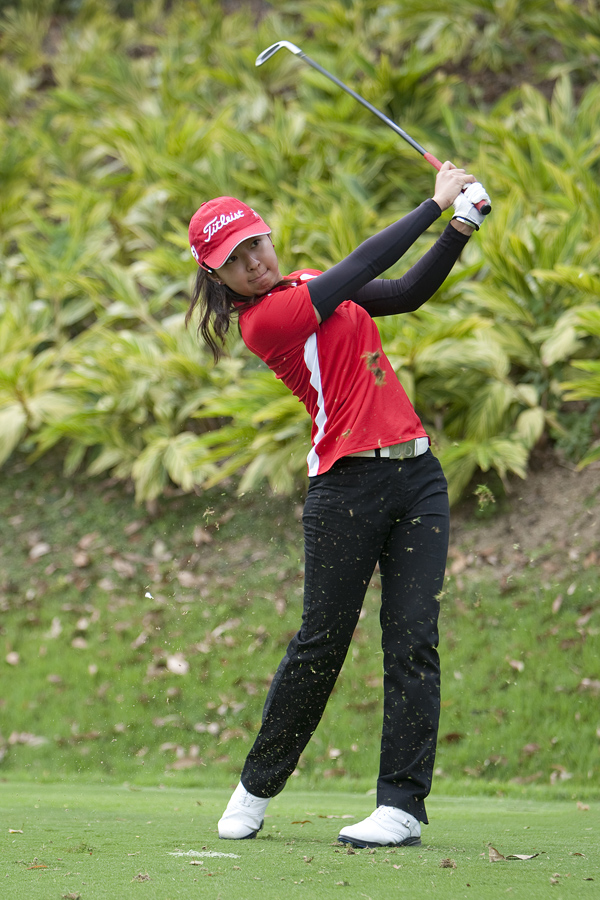 What have been the keys to your recent on-course success?
I believe one of the contributing factors is my fearless attitude. 'See it, feel it, trust it' – this is a quote from my favourite book, Seven Days at the Links of Utopia by David L. Cook and Tom Lehman – and that's what I try to put into action on the course. Also, I really love competition, so that helps!
How would you describe your golf game and personality?
I would say that I am an aggressive and determined person, especially on the course. I never stop trying until I have reached my goals. Whenever I experience failure, I try to learn from it – to figure what caused that failure, which in the long term actually helps my progress. I always try to keep in mind that anything can happen and that you should never stop trying until the last putt has dropped. Finally, positivity. I always make sure that I am smiling and having a good time.
Any experiences in particular that have contributed to your success?
When I was 13-years-old I really questioned my future in golf. I wasn't seeing any tangible improvement in my game and I wasn't getting the results I expected. I speculated that I might have already reached my peak. Luckily, with the unconditional support of my parents and help from my coach I was able to see that this was not the end of my improvement; rather, it was just the beginning. I realized that I was not putting as much effort into my golf as I possibly could and as a result, I totally rededicated myself to the game. I have become a much harder working golfer.
What about tournament experiences?
When I finished fourth in my age division at the Junior World Golf Championship in 2008. That result greatly improved my confidence and proved to me that I could compete with the best junior golfers in the world. Generally, I have learnt so much from playing in overseas tournaments. By playing with such talented competitors I have been able to discover and evaluate the weaknesses in my game. This has really been valuable in my progress.
Who or what drives you to succeed?
First of all, my parents are the ones who introduced me to the game. They enlightened and aroused my interest in golf. I would not be where I am now without them. Secondly, the amazing support I have received from both my parents, my coach Brad [Schadewtiz, the national coach] and the Hong Kong Golf Association has been paramount to my success. I have been a part of the HKGA for almost 10 years now. They have provided me with the chance and the ideal environment to develop my golf game. I am really pleased by what I have accomplished so far, and I really want them to know how much I appreciate everything they have done for me.
What is your best-ever round?
64. I had this in 2007 at the Mizuno Winter Junior Tournament, which was held on the South Course at Kau Sai Chau. I played really well that day. It's also the women's course record there, so that's really cool.
Pages